We've all had our fair share of frizzy hair and other problems that seem like the individual strands of hair on our scalp have a mind of their own. It's a good thing there are now hair dryer brushes, also known as hot air brushes.
These are very convenient grooming tools to create fantastic curls and simplify the process of styling hair. For professional hair stylists, only the best hair dryer brush systems will do.
At the very minimum, these hot air brush devices combine the functionality of a round brush, a hair dryer, and a sophisticated curling iron in one. Some can also function as a hair straightening brush. I know you are also on the lookout for the country's best blow dry hair styling tools.
Here are 4 of Australia's best hair dryer brushes you should check out.
Best Hair Dryer Brush in Australia
| Rank | Product Image | Product Name | Maximum Heat | Main Feature | Where to Buy |
| --- | --- | --- | --- | --- | --- |
| 1 | | Infiniti Pro by Conair Wet/Dry Hot Air Brush Styler | 2 Speed Settings with Cool Shot | Tourmaline Ceramic Spin Air Brush with Ionic Conditioning | Check on Amazon AU |
| 2 | | Philips ProCare Airstyler HP8656/00 | 3 Heat Settings with Cool Shot | Ionic Care with ThermoProtect | Check on Amazon AU |
| 3 | | One Step Hair Dryer & Volumiser | 3 Heat Settings, including Cool Setting | Ionic Technology | Check on Amazon AU |
| 4 | | VS Sassoon Hot Air Brush 'n' Style | 2 Heat Settings plus Cool Setting | Ceramic Technology with Thermal Brush | Check on Amazon AU |
1. Infiniti Pro by Conair Wet/Dry Hot Air Brush Styler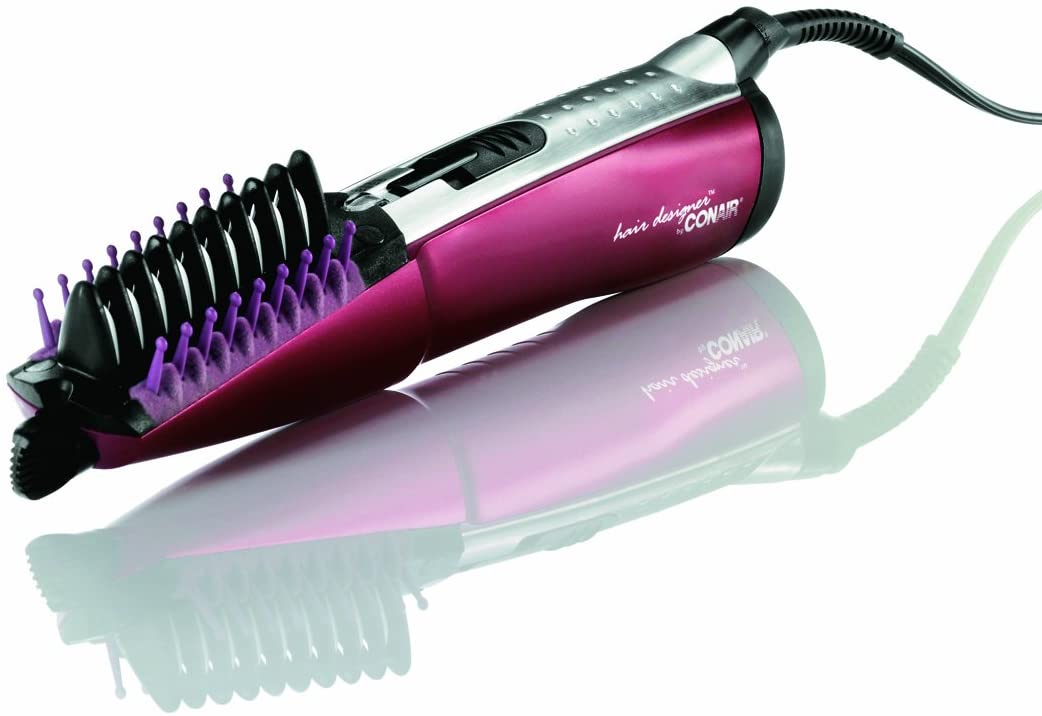 Pro and Cons
Pros
Comes with a Triple Action Styling System
Makes use of infrared energy to protect hair making it shiny
Usable on damp hair
Ion technology for gentle and efficient drying
Cons
Pricier than some hot tools
I can see why a lot of individuals are singing praises to the Infiniti Pro rotating hot air brush in Australia. It utilises the Tourmaline Ceramic Technology that allows free flow of ions to the hair for more efficient hair drying while being gentle to the hair cuticles.
The Infiniti Pro not only comes with 2 speed settings, it also supports the cool setting so you can lock your style in for longer. Using this air styler makes my hair feels shiny and silky thanks to its infrared energy feature.
For those who wants to get rid of the frizz out of their hair, this hot brush would a good option since it makes use of the Triple Action Styling System that can straighten, shine and control frizz.
---
2. Philips ProCare Airstyler HP8656/00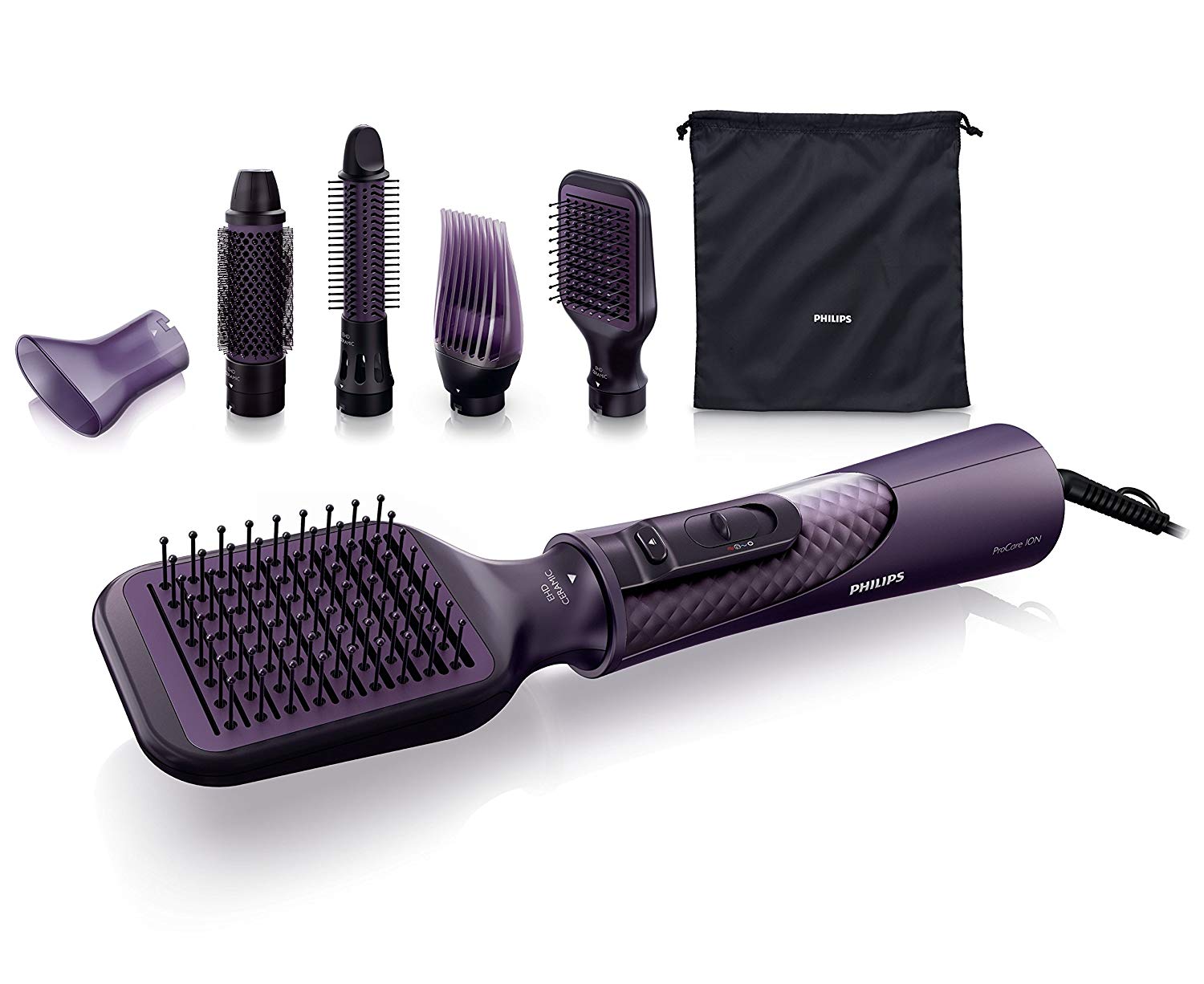 Pro and Cons
Pros
With 5 hair dryer brush attachments
Includes airflow nozzle and Thermo Brush
With Volumiser and retractable bristle brush
With paddle straightening brush
All brushes with ceramic coating
Features Ion technology, EHD technology, and ThermoProtect
Cons
May not work on some types of hair, especially those that are very thick and dense
The ProCare Airstyler HP8656/00 is one of Philips' best-selling hair styling tool. This one features a number of innovations that many in the industry can only dream of providing their clients.
At the core of the Air Styler is the Philips' take on ionic technology. It calls it the Ionic Care. This guarantees static-free hair drying so you get to enjoy frizz-free hair.
The best part of the ProCare blow dry and styling contraption is the inclusion of 5 different attachments. One of my favourite is the paddle brush. There's the 38-mm Thermo Brush which I find exceptional in creating smooth waves and fabulous hair styles.
There is also the bristle brush that comes with a retractable mechanism. This allows for more efficient styling without snagging the rest of the hair.
And then there's the narrow airflow concentrator, which gives me the chance to direct the flow of air where I need it most. You will also find the Volumiser quite unique as it gives you the ability to create volume right at the roots of the hair.
The hot air brush has 3 heat and speed settings so you can set your favourite setting to style or dry your hair. I also like to use this styling brush on my second day hair as I find it makes my hair holds the style better.
The ProCare Air Styler comes with a friendly price. With its sturdy design plus thoughtful grooming attachments, I am pretty sure you would agree that this is a device you would want to use more often, too.
---
3. One Step Hair Dryer & Volumiser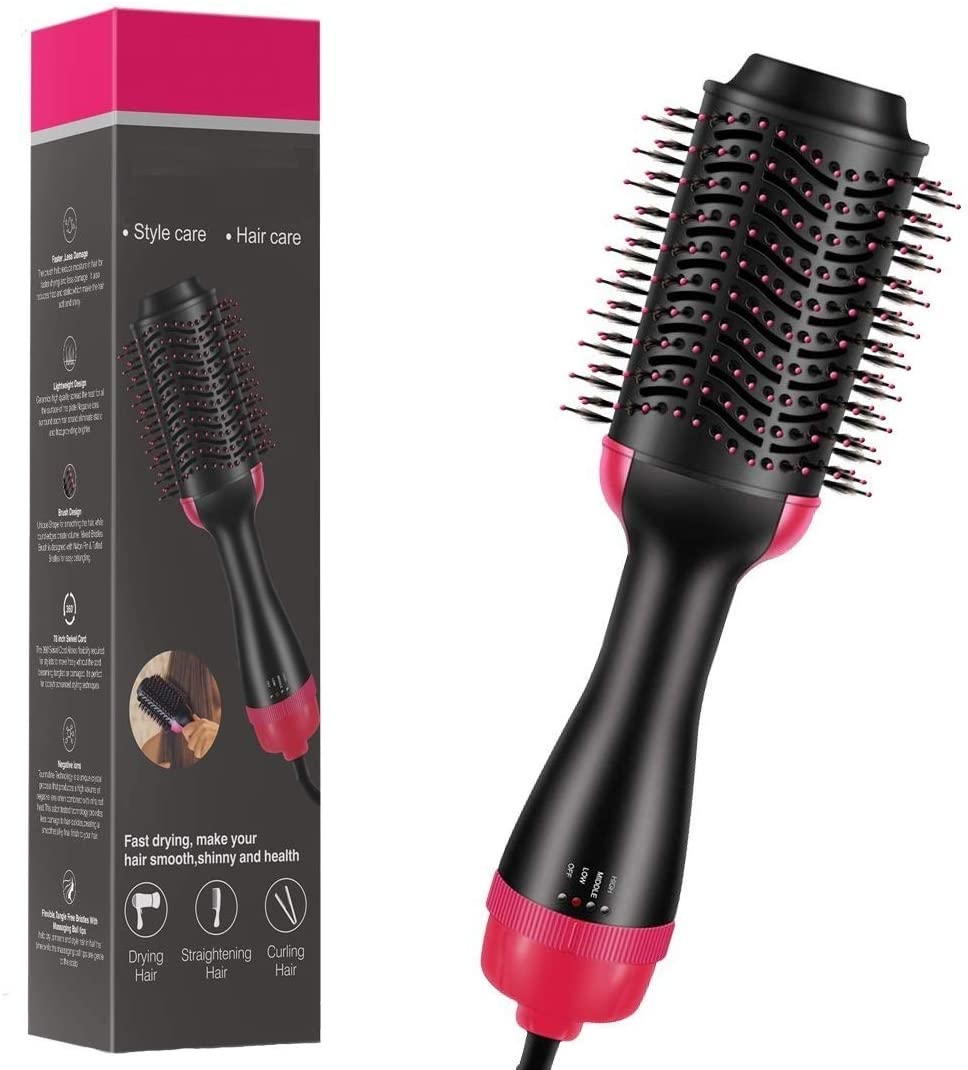 Pro and Cons
Pros
3-in-1 design: straightening brush, brush curler, and hair straightener
Anti-frizz ion technology
Combination of tufted and nylon pin bristles
3 heat settings with cool setting
Affordable price
Cons
No information on warranty or guarantees
Brush does not rotate
Imitation Revlon
With its affordable price tag, it's easy to understand why the One Step Hair Dryer & Volumiser is fast-becoming a favourite. This hair tool does a decent job of drying, shining, straightening, and volumising hair without causing you to go bankrupt.
At 18 inches long, the One Step is perfect for those with long tresses. The long handle guarantees better control of the device without causing undue strain on the hand. The brush head comes with an oval shaped design.
Hence, you cannot expect the One Step to function as a rotating hot air brush. Regardless, it does a decent job blow drying, straightening, styling, and to curl your hair.
There is one flaw, unfortunately. The One Step is an imitation design, copying one of Revlon's more established products. This explains why the One Step doesn't cost you a fortune. If you're not into knockoffs, then this is not for you. But if you're on a tight budget, then this hot air brush is a decent buy.
---
4. VS Sassoon Hot Air Brush 'n' Style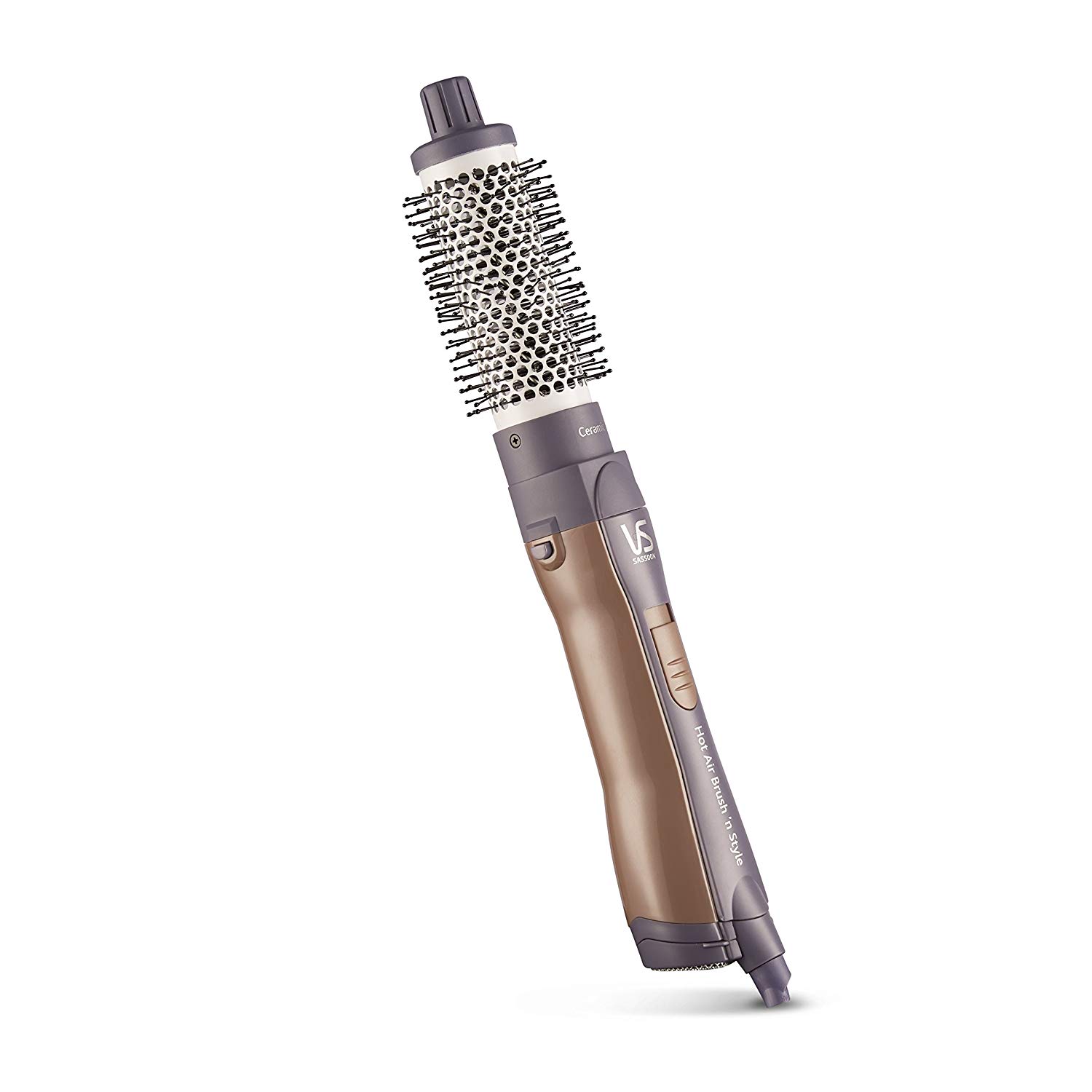 Pro and Cons
Pros
2 attachments: premium ceramic brush and bristle brush
3 heat settings, including cool setting
Ergonomic, lightweight, and compact
Very friendly price
30-day money back guarantee
Cons
May not be ideal for people with longer and / or thicker hair
Barrel doesn't rotate
When it comes to the world's best hair stylists, very few can come close to the expertise of VS Sassoon. Hence, I was excited when the brand launched its Hot Air Brush 'n' Style hair dryer brush. For its price, it fits right in my tight budget.
Featuring an ergonomic handle, the Brush 'n' Style hair straightener comes with two brush attachments. I find the conventional ceramic barrel brush to be exceptional when it comes to creating more volume for my hair. It warms up very fast, too.
According to VS Sassoon, the ceramic technology on this hair dryer brush allows for better styling without causing damage to the hair. The soft bristle brush is also a joy to use. It's perfect for applying finishing touches, requiring control in shaping fringes and ends.
VS Sassoon's hair styling dryer and brush system only comes with 800 watts of power. I find this quite intriguing, since most of the products that I have seen on the market come with 1000 watts.
It may be a bit underpowered, but I think the brand employs a technology that allows it to deliver professional-quality performance without the need for excess energy.
---
Bottom Line
Picking the best hair dryer brush Australia may not be that easy. But I sure hope I was able to somehow enlighten you on these hot air styler that are gaining popularity among Aussies and the rest of the world.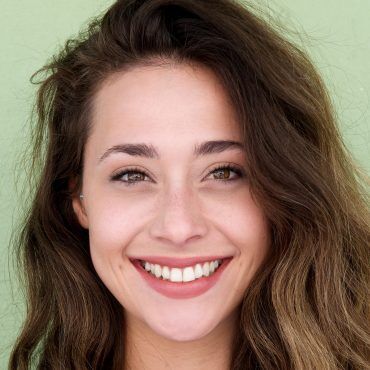 Latest posts by Nicola Brennan
(see all)