Facial steamers are convenient, portable devices that can deliver a spa-like experience wherever you are. These gadgets deliver warm steam to the face to help open pores of the skin. They can help improve the removal of waste products while improving blood circulation in the skin. This results in a more youthful and more vibrant complexion.
Here's a look at the best face steamers you can buy in Australia.
| Rank | Product Image | Product Name | Tank Capacity | Steam Technology | Average Runtime | Where to Buy |
| --- | --- | --- | --- | --- | --- | --- |
| 1 | | Okachi Gliya Nano Mist Face Steamer | 80 mL | Ultrasonic Nano Mist | 15 minutes | Check on Amazon AU |
| 2 | | Panasonic Steamer "Nano Care" EH-SA33-P (Pink) | N/A | Nano | 7 minutes | Check on Amazon AU |
| 3 | | Zenpy Nano Ionic Facial Steamer | 70 mL | Nano Ionic | 15 minutes | Check on Amazon AU |
| 4 | | Beurer Pureo Ionic Facial Sauna (FC72) | 100 ml | Ionic | 15 minutes | Check on Amazon AU |
| 5 | | KINGA Hot Mist Steam Nano Ionic Facial Steamer | 65 mL | Nano Ionic | 10 minutes | Check on Amazon AU |
The Best Face Steamers to Buy in Australia in 2022
1. Okachi Gliya Nano Mist Face Steamer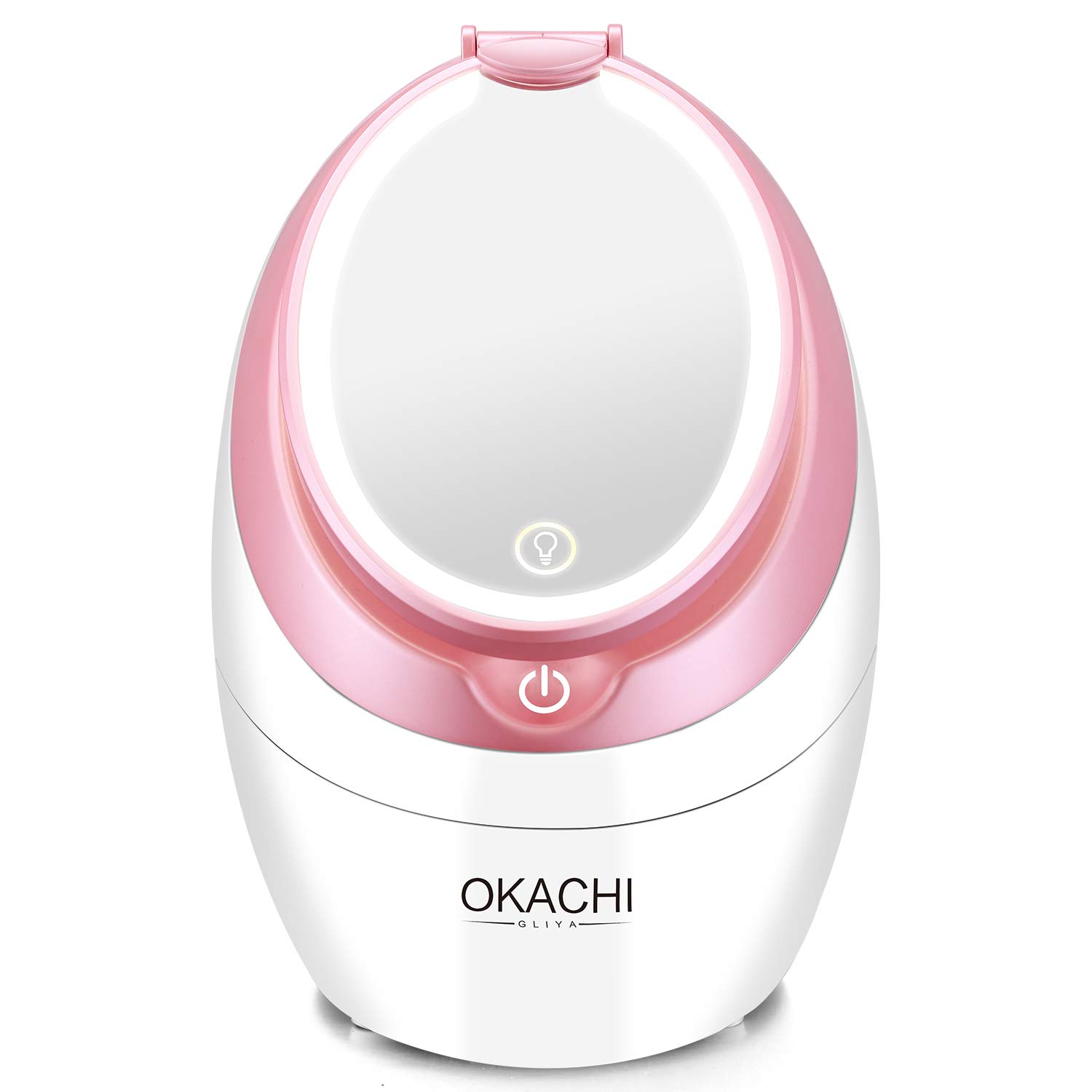 Pro and Cons
Pros
Ultrasonic nano steam technology for faster and more efficient facial sauna
Built-in LED cosmetic mirror for additional functionality
Pro-UV system ensures better absorption of steam
Large water tank capacity
Cons
Issues with product reliability
The Okachi Gliya Nano Mist Face Steamer is one of the best face steamers in Australia. It also comes with a few neat features that can make facial steaming more enjoyable.
For starters, the Okachi Gliya comes with an integrated HD cosmetic mirror. This mirror flips a full 180-degrees. You can perform your routine grooming rituals while enjoying a more relaxing facial sauna experience.
The company also guarantees that there is no odd plastic smell from the device the first time you use it. Most devices have that characteristic odour of plastic. This requires the product to undergo priming first. One does not need to prime the Okachi Gliya prior to use. You can use it as soon as you take it out of the box.
The Okachi Gliya can moisturise the skin by up to 78.8 percent. Conventional face steamers can only hydrate the skin for up to 23.3 percent. This increase in skin hydration levels can translate to a more beautiful, more vibrant, and younger-looking skin. It's tank can also hold about 80 mL of water.
In addition, Okachi Gliya integrates a unique ultrasonic nano vaporiser. The nano ioninc technology charges individual steam molecules with negatively-charged ions. This helps guarantee better penetration of the skin's layers. The device works to stimulate better collagen production. It can also improve blood circulation and skin cell vitality. People with blackheads, acne, and other skin imperfections will see the difference after only several sessions.
---
2. Panasonic Steamer "Nano Care" EH-SA33-P (Pink)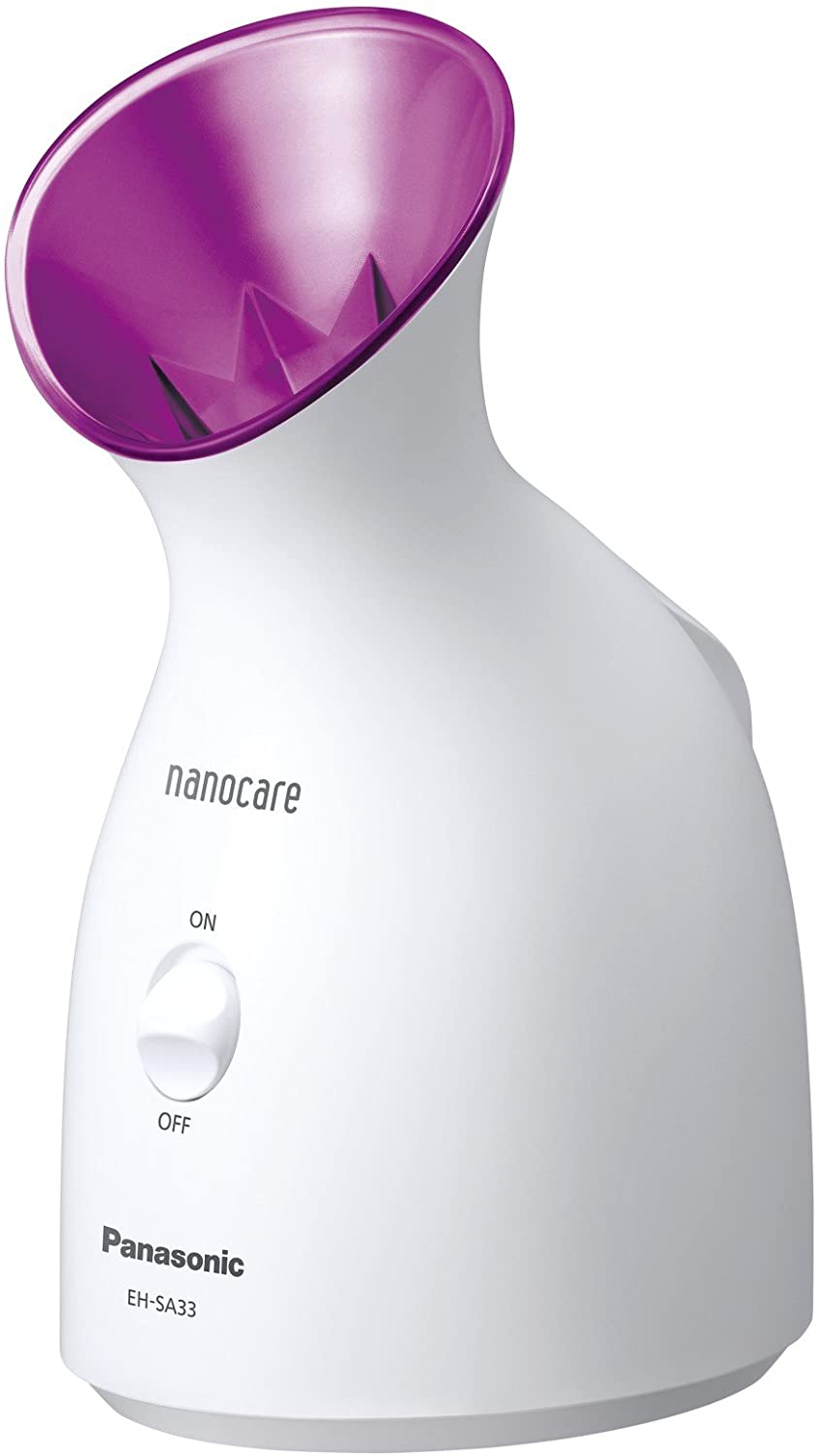 Pro and Cons
Pros
Relieves clogged pores and clogged noses
Moisturizes the face and the neck
Reduces dry eyes
Produces a consistent mist
Nozzle is perfectly angled towards the face
Small and portable
Easy set-up
Cons
Bulky design
Has to be charged to operate
No mist variations
The Panasonic Nanocare EH-SA33-P Face Steamer is the third generation of the Nanocare Face Steamer by Panasonic. It looks a lot like its predecessors in terms of size and design. In fact, their most obvious difference would be the colour of the nozzle where the mist is released.
The Panasonic Nanocare EH-SA33-P Face Steamer is robustly-designed. However, it is very easy to use at it only has one sliding button that you need to use for it to operate. The system is a simple on and off which makes it pretty convenient ever for teenagers to use. All you have to do is plug it in a socket and then turn it on.
The nano mist coming from the Panasonic Nanocare EH-SA33-P Face Steamer is said to relieve both clogged pores and clogged noses. It can be used as a detoxifying tool to prep your skin before cleaning. It's handy for removing makeup, dead skin cells and impurities while you prepare for your skincare routine. Since the nozzle is angled towards your face, you don't have to move around just to be able to receive the nano ionic steam mist. This applies whether you're sitting down or standing up.
The Panasonic Nanocare EH-SA33-P Face Steamer is quite a simple facial steamer. It doesn't have a lot of fluff which makes it very convenient. With its affordable price, you can already have an extra cleaning tool that also provides relaxation. If you have dry eyes, this will also be helpful in reducing the discomfort you feel. Overall, it's a great desk and skin care tool topped with a pink nozzle.
---
3. Zenpy Nano Face Steamer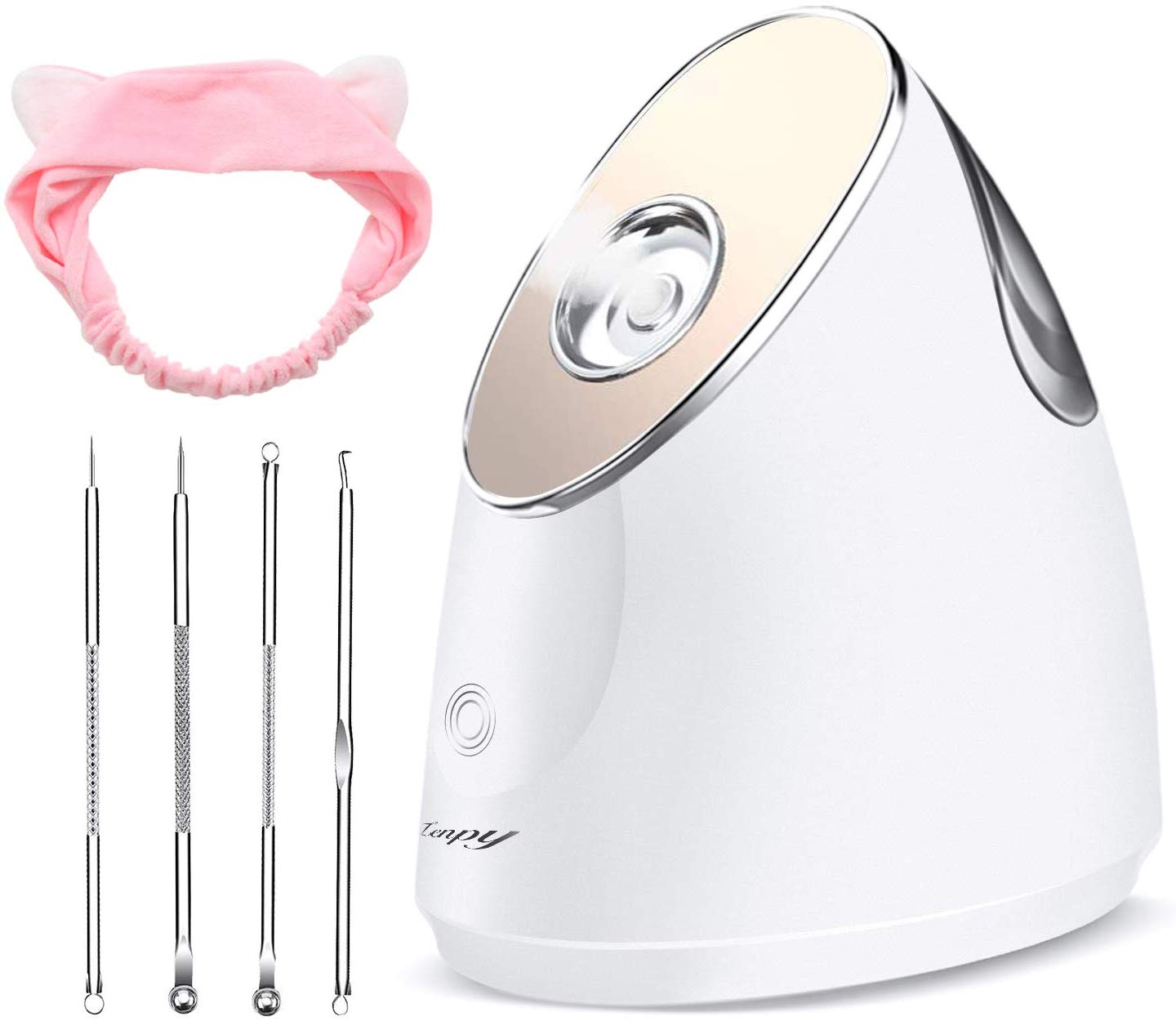 Pro and Cons
Pros
Produces nano steam that makes it easier for the water particles to penetrate the skin
A face steamer and an inhalation device in one product
Comes with a blackhead and pimple remover tool kit
Has a large water tank
Easy to use and intuitive design
The Zenpy Nano Face Steamer is one of the things you will need if you want to have clearer skin and fewer pimples. It makes use of nano-ionic steam that is able to give up to 20 times skin penetration. This ensures that your pores are wide open so that your face can absorb all the skincare products you plan to use afterward.
The Zenpy Nano Face Steamer just needs 10 seconds in order to prep your steam. With just 10 seconds, you can have 15 minutes of facial steam that is relaxing and cleansing. What's great about this product is it has a large enough water tank so you can last for 15 minutes without stopping.
Upon seeing the Zenpy Nano Face Steamer, you would know that it's really to use. It is made with intuitive design making it a must-have for those who don't want to keep tinkering with any of their facial devices. Among the other nano face steamers, Zenpy Nano Face Steamer is considered one of the best steamers in the market. Now you can enjoy relaxing 15-minute facials without the hefty price.
---
4. Beurer Pureo Ionic Facial Sauna (FC72)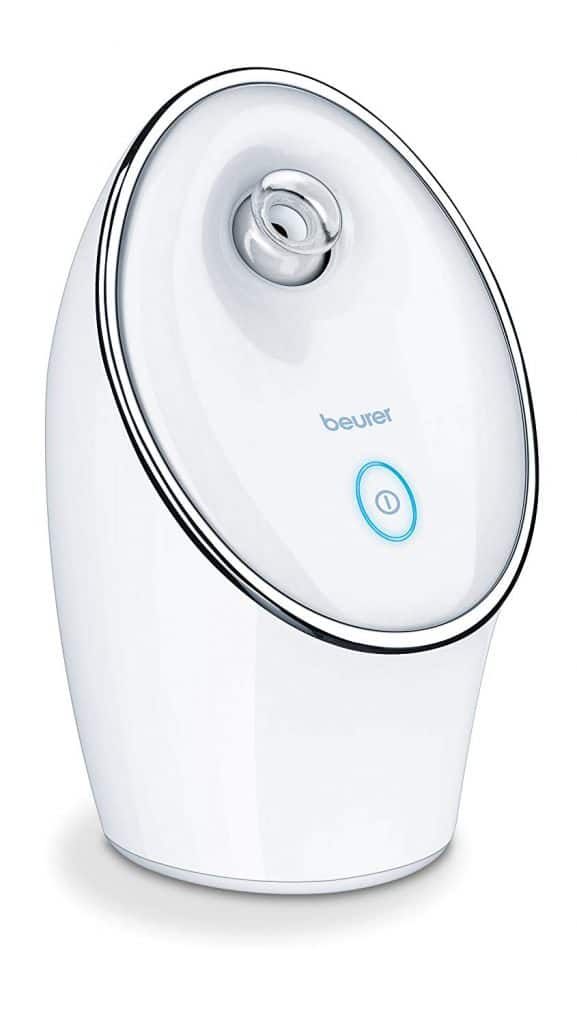 Pro and Cons
Pros
Compact and portable design
Employs the latest technology in facial sauna
Choice of either steam or ionic technology
Good price for its features
Cons
No extras to help in the facial sauna experience
Narrow base may tip the gadget a lot easier
Beurer promises that its Pureo Ionic Facial Sauna is the best for individuals who want to get a much deeper hydration for their skin. It has a very simple, minimalist design. The topmost section of the facial steamer comes with a blue-backlit power button and the steam nozzle. There are no additional design elements. This gives the Pureo a certain kind of styling that can complement any space.
The real secret to Pureo's skin hydration capabilities is its ionic technology. This helps ensure that you will get more than a simple hydration for dry skin. It rejuvenates the skin, allowing it to grow a lot healthier. Its nano ionic system produces very fine steam particles that penetrate deep into the layers of the skin. It can unclog pores and promote healthier blood flow. What you will get is a skin that looks more vibrant with continuous use of the device.
The Pureo Ionic Facial Sauna comes with an adjustable steam nozzle. It allows you to direct the steam to the parts of your upper body that you want to hydrate and rejuvenate. This gadget can also work to clear the sinuses. It can make breathing a lot easier.
One can operate the gadget for up to 15 minutes at a time. Its tank can hold up to 100 mL of water. The tank is detachable and is dishwasher-safe. It has two steam settings: ordinary steam and ionic steam. When used in the ionic mode, the Pureo Ionic Facial Sauna's technology charges the water molecules with ions to help provide its many benefits.
---
5. KINGA Nano Ionic Facial Steamer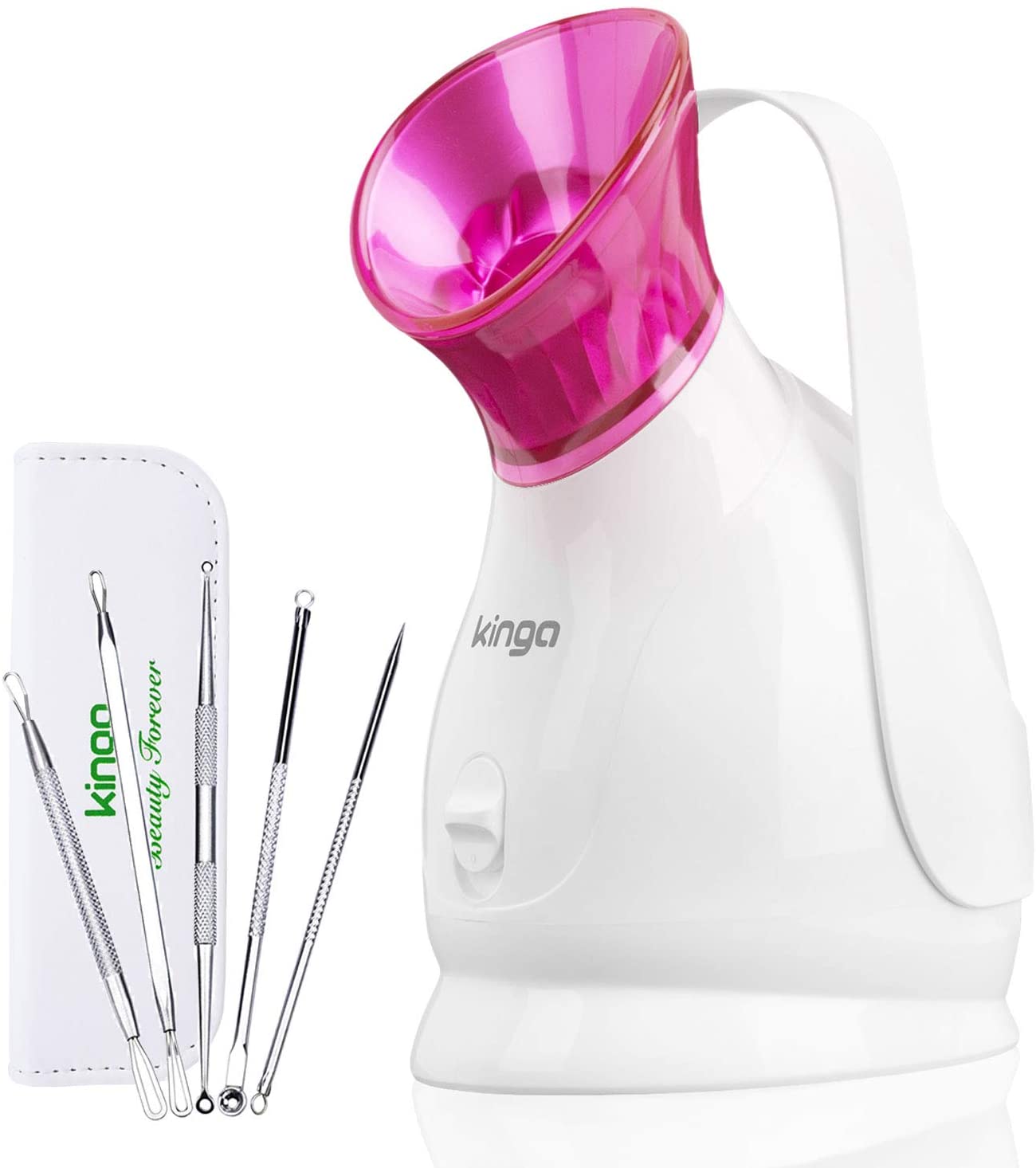 Pro and Cons
Pros
Has a handle for easy moving
Can be used as a humidifier
Quick in creating steam
Quick run time
Cons
May have new plastic smell at first
Much like the LONOVE Face Steamer, the KINGA Nano Ionic Facial Steamer has more function than just being a face steamer. It can function as an interior humidifier at home. I am still amazed at how this compact facial steamer can function as a humidifier. It can be easily moved around the house too since it comes with a handle for easy transport.
The power this KINGA Face Steamer has is quite strong because it can generate fill steam in just under 30 seconds from the moment you switch it on. The water tank has a 65mL capacity, which is not big but good enough for an average facial steamer. You only need about 10 minutes of steaming time to prep your skin and feel the effectiveness.
It also makes use of the Advanced Ultrasonic Atomiser feature to produce those powerful micro-fine particles for skin penetration without being too strong. Exfoliating the dead skin away not only make your skin dewier and helps with collagen regeneration, it also helps in the absorption of skin products.
Likewise, with the new LONOVE Face Steamer, the KINGA Face Steamer also tend to carry the new plastic smell when first used. Therefore, the KINGA manufacturer highly recommends running the steamer in full tank with a few drops of lemonade to remove the unpleasant smell.
---
Benefits of a Face Steamer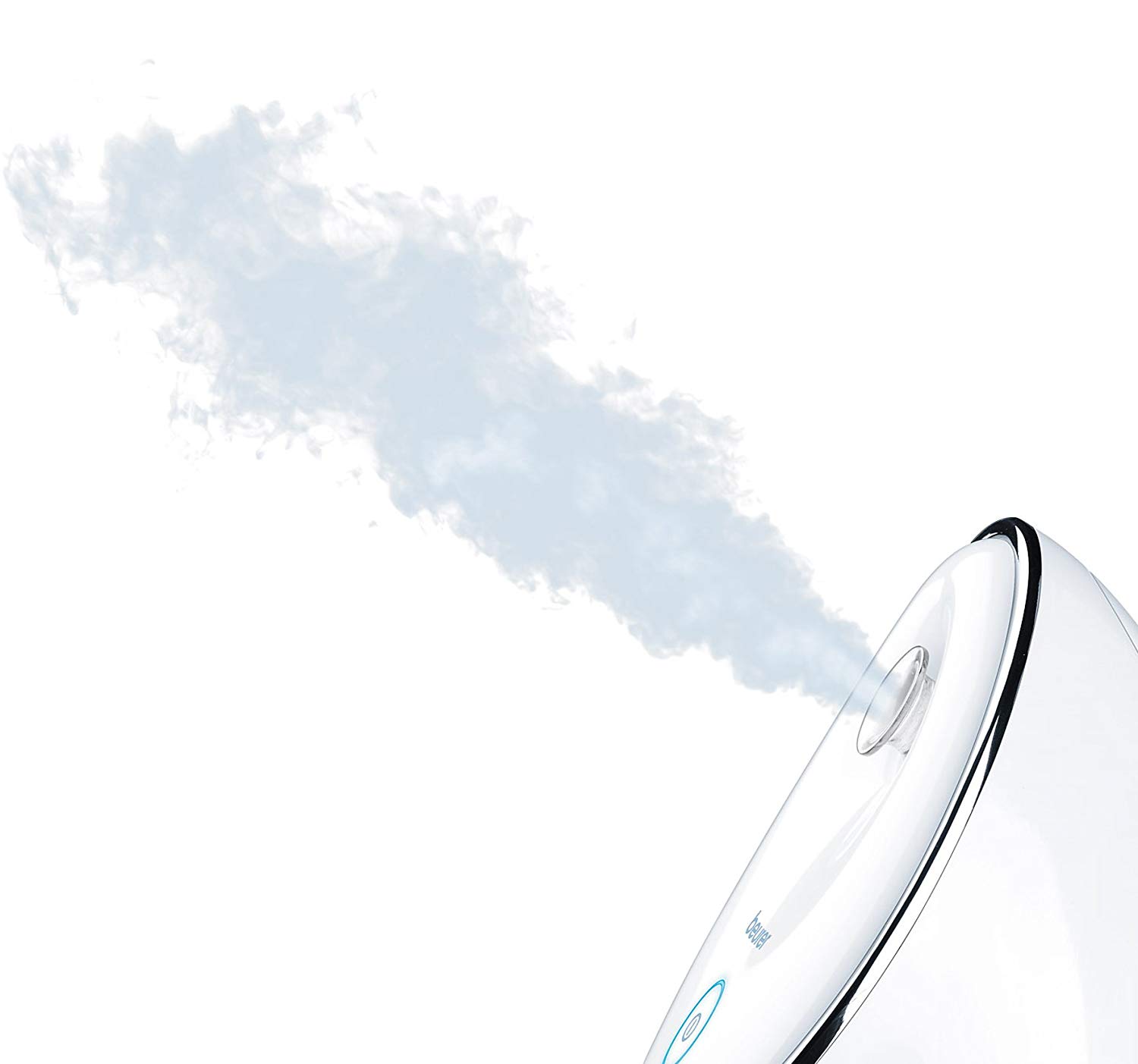 There is very little scientific evidence to determine the exact health benefits of using a facial steamer. However, we can always take our cue from our understanding of the physiological effects of heat on the human body. Here are some of the benefits of using a facial sauna device.
Improves Circulation
Heat applications can relax the muscles of the body. Since the middle layer of all arteries contain smooth muscles, the application of heat also relaxes these muscles. The relaxation of the muscles of the blood vessels can help increase their diameter.
This leads to a reduction in blood pressure. It allows the blood to flow in a more efficient manner. Facial steamers can help improve blood circulation in the skin. This delivers nutrients for the cells of the skin, allowing them to grow in a healthier way.
Hydrates the Skin
Facial steamers deliver near-microscopic droplets of warm water on the surface of the skin. The warm temperature of these water droplets helps open up the pores of the skin. Water enters the pores and helps improve the hydration of the deeper layers of the skin.
Many of the things we do to our faces today strips the skin of its natural moisture. Mascaras, foundations, and other beauty products also clog the pores and leave a drier-than-usual skin. A facial steamer addresses these by delivering moisture where it's needed the most.
Aids in the Removal of Blackheads
Removing blackheads can be challenging. If you try to remove the blackhead in the wrong way, you might end up with bigger skin problems. Facial sauna devices increase the hydration levels of the skin. Its warm temperature also relaxes the skin tissues. This softens the skin surrounding a black head, making it a lot easier to 'dig out' the skin problem.
How to Use It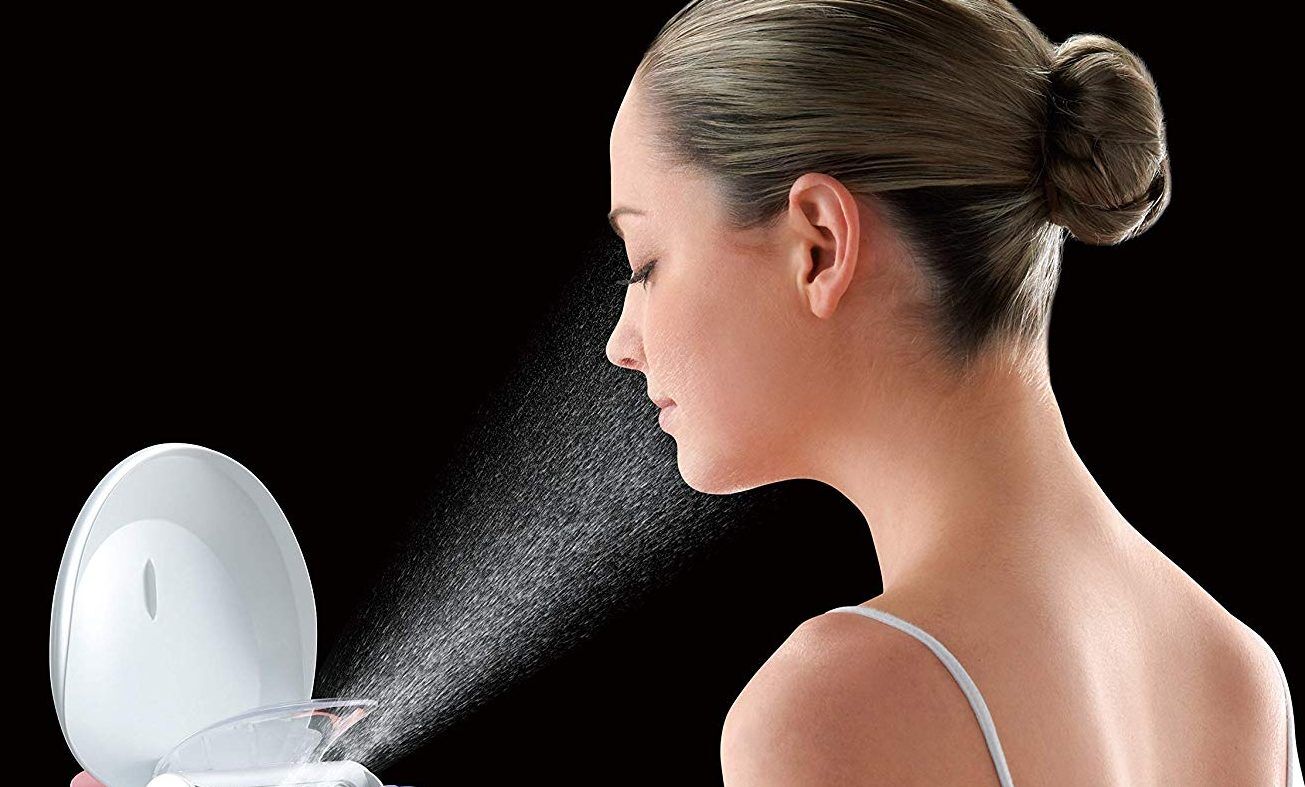 Using a facial steamer is quite easy. One has to check the manufacturer's instructions on the proper use of the device. Different manufacturers will provide their own guidelines as to how one can best optimise the different functions of their facial sauna.
In general, however, one has to start by cleaning the face. It is important to remove any dirt, makeup, and other compounds that may be present on the surface of the skin. This will help facilitate better absorption of the steam molecules. A mild soap or face cleaner should do fine. Be sure to rinse your skin very well.
Many of the facial steamers we have today are very easy to use. Most will only require the filling of the tank with the correct amount of water. Once filled, you can plug the device and turn it on. There are some gadgets that allow you to choose from different settings.
You can choose the temperature of the steam that you want or the intensity of the steam generation. Of course, not all products have these features.
If this is your first time to use the product, it would be best to have a trial run first. Some devices have a 'face-holder' contraption that comes with the facial sauna. You can place your face on it so that you can maximise the steam coming from the gadget.
After 2 minutes, pause the steaming session. Try to determine how you feel. Are you feeling dizzy? Having a headache? Getting nauseous? If you don't feel anything, then you can proceed to finish the sauna treatment. A typical facial steaming session will last anywhere between 5 minutes and 15 minutes.
Bottom Line
Using the best facial steamer you can buy in Australia is like having your very own facial sauna at home. It can rejuvenate the skin and address some of the more common skin problems, too. Overall, these gadgets can help you achieve a younger-looking and more vibrant skin. Pick one of the brands above and you should be fine.