Not everyone has perfectly straight hair. I, for one, have wavy hair and although it's nice, there are days that it just won't cooperate. Sometimes I wish they were permanently straight, but that's just wishful thinking. Lucky for us women, the hair straightener was invented and ever since, we don't ever have to worry about not having straight hair.
I know the struggle of looking for the best hair straightener. Just searching online gives you a lot of choices. But what's the best option out there? Let me help you in figuring that out.
Best Hair Straighteners in Australia
| Rank | Product Image | Product Name | Maximum Heat | Main Feature | Where to Buy |
| --- | --- | --- | --- | --- | --- |
| 1 | | ghd Platinum+ Hair Straightener | 185°C | Predictive technology for adjusting heat, sensors adjust to different hair types | Check Price |
| 2 | | ghd Gold Hair Straightener | 185°C | Dual-zone technology for premium curls and waves; double heat sensors on each styling plate | Check Price |
| 3 | | H2D Linear 11 Hair Straightener | 230°C | Ionic generator, infrared technology, and tourmaline-infused plates | Check Price |
| 4 | | Silver Bullet Keratin 230 Titanium Hair Straightener | 230°C | Set includes paddle brush, clips, styling comb and heat resistant mat, perfect for keratin straightening treatments | Check Price |
| 5 | | Muk Style Stick 230IR | 230°C | Negative ion for improved heating and gentleness on the hair | Check Price |
1. ghd Platinum+ Hair Straightener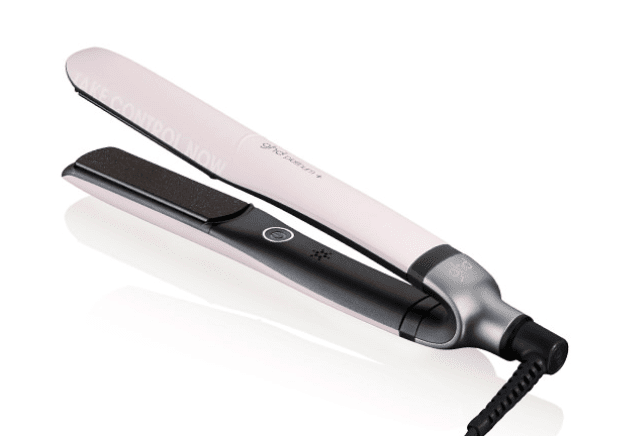 Pro and Cons
Pros
70% less breakage due to controlled heating
Automatic shut down after 30 minutes of non-use
Compatible to all hair types
Predictive technology for consistent heat throughout the hair
Heat-resistant plate guard
Universal voltage
Cons
On the higher price point
When you look at the ghd Platinum+ Hair Straightener and see its price tag, you'll probably think that it's just your generic hair straightener. While the design doesn't exactly scream "unique" and "promising", this iron is actually one of the best ones in the market. Let me tell you why.
The ghd Platinum+ Hair Straightener is a smart straightener complete with sensors that adjust to the type of hair you have. This means that it's compatible with all hair types. For someone who has frizzy hair, hearing this was quite a relief. And because it adjusts to your hair type, it doesn't have a generic approach to heating. You will experience less breakage using ghd's hair straighteners.
Moreover, the ghd Platinum+ Hair Straightener uses predictive technology in adjusting the heat applied to your hair. Say goodbye to uneven straight hair with this flat iron. With the ghd Platinum+ Hair Straightener, the heat is equally applied all throughout your strands from root to tip. To add to that, it adjusts the heat applied for the second pass so the temperature doesn't go over 185 degrees. As a result, you won't get damaged hair or having your hair looking like it was fried. Instead, you get quality hair that's smooth and flawless without the heat damage for your hair type. This iron is perfect for colour-treated or dull hair.
When it comes to design, I know that this ghd straightener doesn't look any different from others. However, it uses a wishbone hinge to align the plates to each other. These precision-milled plates were also designed to glide effortlessly along your hair strands. You won't have to experience the iron getting stuck with your strands. It is definitely one of the best hair styling tool I have used.
Did I mention that it has an automatic sleep mode? It automatically turns off after 30 minutes of non-use. Of course, this isn't an excuse to not properly turn it off.
---
2. ghd Gold Hair Straightener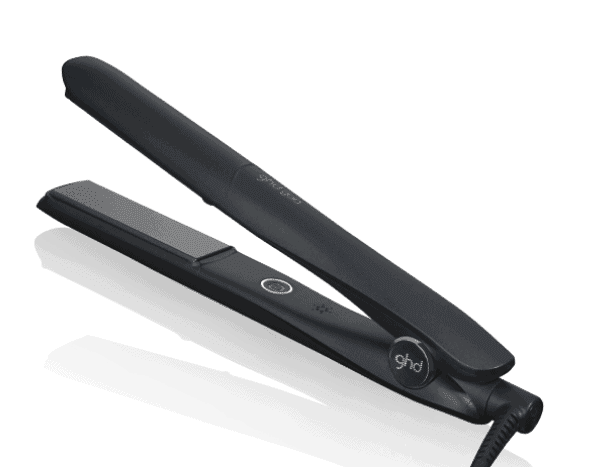 Pro and Cons
Pros
Perfect for thick and curly hair
Creates salon-like curls and waves
Has dual-zone technology for consistent heating on both plates
Universal voltage
Sleek and minimalist design
Automatic shut down after 30 minutes of non-use
Cons
It is on the higher price point
If there is one hair straightener that goes well for people with curly hair, it's the ghd Gold Hair Straightener. This hair styling iron is for heavy-duty use. I was amazed that it can tame curly hair that easily as if it was just wavy hair. While some hair straighteners would break and shut down with repeated use on thick hair, curly hair, this doesn't.
I guess you can attribute this to the fact that it's ghd-made. Not to be biased or anything but ghd is a popular hair straightener in the styling world. Models and celebrities use ghd hair straighteners because of their durability and their predictive technology that a lot of brands don't have. The ghd Gold Hair Straightener uses predictive technology to ensure that your hair receives only up to 185°C which is the optimum styling temperature your hair can take.
The ghd Gold Hair Straightener is more than just a hair straightener; it has also made a name for being a proven curler hair tool because of the salon-like curl it produces. Whether it's bouncy curls or loose beachy waves that you want, the ghd Gold Hair Straightener can create those styles for you, living up to its position as one of the best hair straighteners in the country.
To make it a lot easier, it's designed for comfortable use. The soft curves it has on the handle allow you to hold it easily even when you're doing your hair at the back.
Plus, the whole straightener has a slim profile so it's not bulky to carry around. I immediately fell in love with this flat iron/curling iron because it has a sleek design and heavy-duty capability that you won't find in smaller models, like a mini straightener.
---
3. H2D Linear 11 Hair Straightener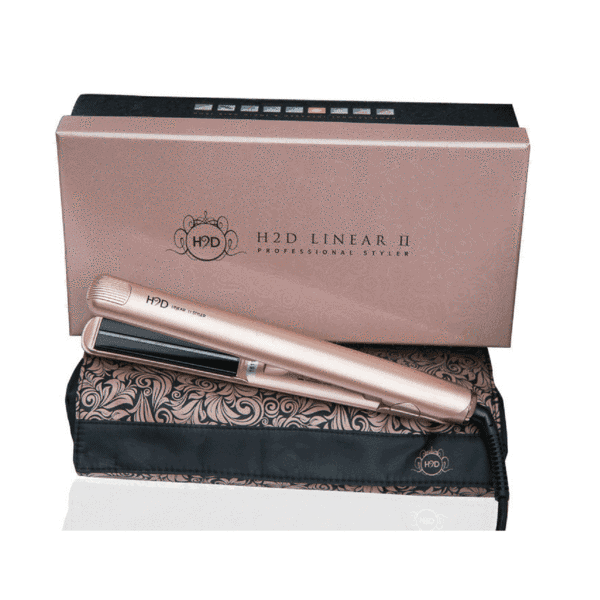 Pro and Cons
Pros
Infrared technology for more effective heating
Tourmaline-infused ceramic plates
Ionic generator for smoother hair
Adjustable temperature control for up to 230°C
360 degree swivel cord for easier mobility
Cons
Automatic switch-off takes a long time
Maximum heat not ideal for hair
Heat not contained on the plates alone
Hair straighteners are becoming more and more technology-infused that they offer a number of features that will make your experience better. H2D has joined that innovation by adding unique features that only their hair straighteners have. They have three notable innovations – infrared technology, tourmaline-infused plates, and ionic generators.
When I first heard about these things, I thought that H2D was just going for a fad. But when I tried their hair straightener, I realised that their new features are definitely must-haves. The infrared technology was able to cut down my styling time by a third because the heat penetrated easily into the cortex of the hair shaft. In other words, my strands absorbed the heat so easily it didn't need to take a third pass to go straight. It goes into my list of best hair straighteners because of this.
The tourmaline plates were also a great upgrade. Although I'm no geek when it comes to stones and minerals, the tourmaline added a smoothing effect to my hair. Even after heating, it felt smooth and soft. It's so unlike the dull and fried hair I usually get with other straighteners. This worked well with the ionic generator to give a smooth finish to your strands.
If there is one thing I didn't like with the H2D Linear 11 Hair Straightener, it's the maximum heat. While it has an adjustable temperature, a 230-degree heat is just not healthy even if you have an ionic generator and tourmaline plates. If you plan on using this, I recommend not reaching this much heat because it's not safe for any hair type, not even thick hair. Plus, unfortunately, the heat isn't contained in the plates so after a while, the whole device starts to feel warm to the touch.
---
4. Silver Bullet Keratin 230 Titanium Hair Straightener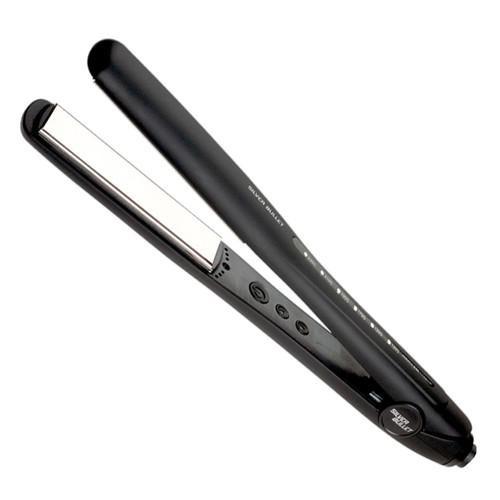 Pro and Cons
Pros
Adjustable temperature up to 230 degrees
38-mm wide plates for more hair coverage
Perfect for keratin treatments
Fast heating mechanism
Comes with styling tools
Affordable
Cons
Titanium plates do not have significant effect
Silver Bullet's Keratin 230 hair straightener has several variants, but what we're going to talk about here is the 38 mm Titanium plate. The 38 mm titanium plate has the biggest plates compared to the other variants, making it ideal for people who are always in a hurry. If you just got a few minutes to straighten your hair, this is the tool you'll need.
The Silver Bullet Keratin 230 Titanium Hair Straightener has an adjustable temperature that can reach up to 230 degrees. As I said, it's the best if you want to get straight hair fast. Plus, the 38-mm plates allow you to get more hair heated in one pass. Compared to other hair straightening tools in the market, this doesn't hold back on plate size.
What I love the most about the Silver Bullet Keratin 230 Titanium Hair Straightener is how it comes with styling tools in its basic package. No, it's not because it's their promo or discount to include them – promo or not, it comes with styling tools that make it easier for you to do your hair. It even has a heat-resistant mat where you can place the straightener. I don't know about you but this is a great addition knowing that some surfaces get damaged when heat is placed over them.
What about quality? Well, it works just as hair straighteners should. I didn't find anything new here, though. Even if it was using titanium plates, it wasn't so significant for me to notice the effect on the heating process. I did, however, appreciate that it's robust enough for use on keratin straightening treatments. This flat iron proves that it's a salon-grade tool.
---
5. Muk Style Stick 230IR
Pro and Cons
Pros
Simple, straightforward design
Adjustable temperature up to 230 degrees
Uses infrared light strips for glossy hair
Affordable
Cons
Metallic plates are thin and small
Does not have a universal voltage
The Muk Style Stick 230IR is one of the most straightforward hair straighteners out there. It's really simple to use and it doesn't have a lot of features that you will get confused with. At most, there are a few buttons inside the handle but that's for adjusting the temperature. Yes, it has adjustable temperature up to 230°C.
The Muk Style Stick 230IR uses infrared technology and you can see it as a strip in between the ceramic plates. Did I mention that the ceramic coated plates are in strips? That's probably the most unique feature here, though some might find it a little odd. It wasn't a problem for me when I used it because it delivered the same performance anyway.
As for the heating, I'm not a fan of having a maximum temperature to reach 230 degrees. Fortunately, you can adjust the temperature settings. My recommendation is to avoid reaching the maximum heat because the device also heats up alongside the ceramic plate and it's not the best feeling. Plus, the possibility of having heat damage. The buttons on the handles are also made from metal so it tends to heat up after use.
This ceramic flat iron is ideal for people who just want a small hair straightener that they can pack easily. It's minimalist and simple, there are no fusses when using it. It's also fast to heat up so you can use it when you're in a hurry.
What I don't like with the Muk Style Stick 230IR is that it may be too simple. Other than its infrared technology, there's not a lot of innovation going on with the hair straightener. To add to that, I've seen a lot of reviews that it doesn't have a universal voltage even if it claims to have one.
---
Bottom Line
I know that picking from these wonderful hair straighteners can still be a struggle. But, hey, at least it's a shorter list than the ones the Internet is giving you. Hopefully, you can pick one from this guide since all of them have high ratings and are definitely great hair tools.