Facial toning devices are nothing new. Dermatologists, beauty salons, and aestheticians always have a facial toning device in their arsenal. These technologies help improve skin tone by rejuvenating the cells that make up the skin. Such devices (also known as a microcurrent device) increase skin cell metabolism while also enhancing blood circulation, promote fine lines reduction and lymphatic drainage.
The overall effect is a younger-looking, more beautiful, and more vibrant skin. This can have a tremendous impact on one's self-confidence and self-esteem. In a world where confidence matters, having the best facial toning devices in Australia is a must.
| Rank | Product Image | Product Name | Intensity Levels | Power | Unique Selling Point | Where to Buy |
| --- | --- | --- | --- | --- | --- | --- |
| 1 | | NuFace Mini Facial Toning Device | N/A | Rechargeable Lithium ion | 5-minute facial lift; Wrinkle reducer; 2 in 1 Kit | Check on Amazon AU |
| 2 | | Panasonic EH-St63-P541 Ionic Facial Cleansing and Toning Device | Not applicable | Rechargeable Lithium ion | Facial cleanser and toner 2 in 1 | Check on Amazon AU |
| 3 | | Ms.W Hot & Cold Facial Toning Massager | Not applicable | Rechargeable Lithium ion | Cool and heat facial toning massager | Check on Amazon AU |
| 4 | | Project E Beauty Wireless Microcurrent Galvanic Facial Lift Device | 12 | Rechargeable Lithium ion | Positive and negative ionisation | Check on Amazon AU |
Best Facial Toning Devices in Australia
1. NuFace Trinity Facial Toning Kit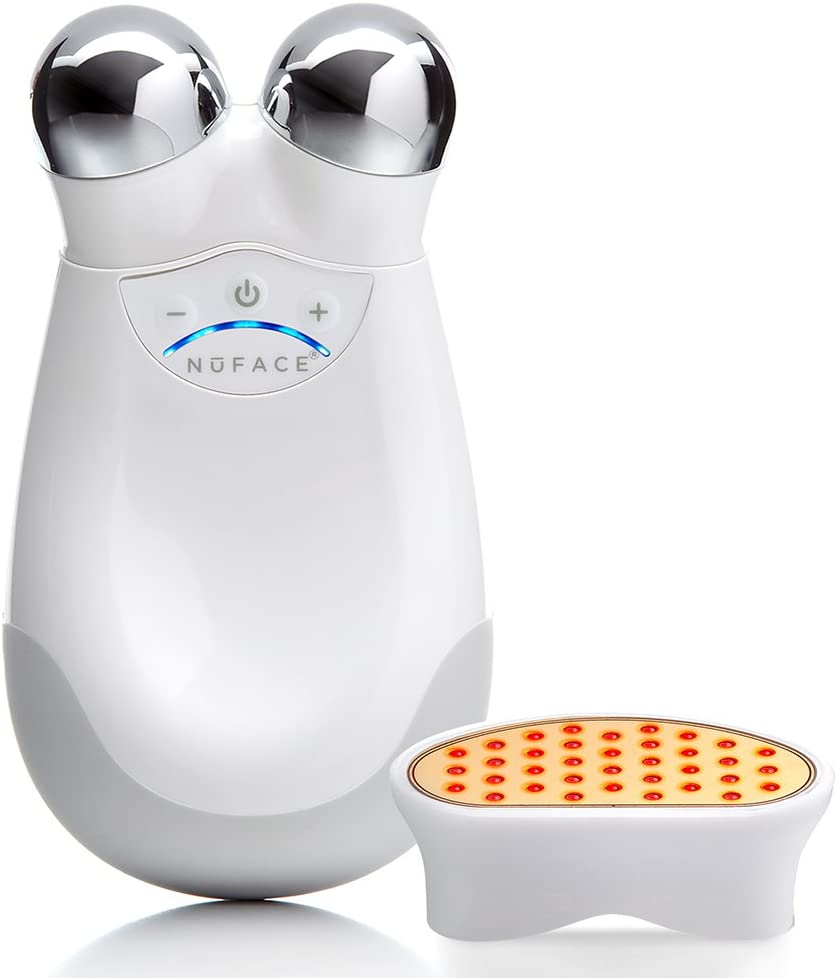 Pro and Cons
Pros
Spa-like results
Very easy to use
Comes with the red-light therapy attachment
Portable and compact design
Cons
Need to use very consistently for quite a while to see results
The NuFace Trinity facial toning device is one of the bestselling microcurrent gadget in the market. It is compact, lightweight, and looks adorable with the rounded shape heads. I recommend the NuFace Trinity Facial Toning Kit because this kit comes with an additional attachment that uses red light therapy to reduce wrinkles.
The NuFace device offers spa-like results that can get you ready in as short as 2 months. The device doesn't require very extensive treatments since you can have your facial in as little as 5 minutes.
However, like all portable facial toning devices, it is important to recognise that the results will not come overnight. Consistency is key to getting the full benefit of this device so you should be able to see a slight improvement in your skin in the first 2 weeks of application.
You can use it on targeted area as little as about 5 minutes a day or tone your full face for about 20 minutes. When fully charged, the average battery should last between 1 to 2 weeks based on daily usage of 5 to 20 minutes.
The red-light therapy attachment helps to reduce fine lines and wrinkles while the usual rounded heads helps with lifting, toning and contour of the face. This kit essentially combines 2 items in one so it's a good buy instead of purchasing each one separately.
---
2.Panasonic EH-St63-P541 Ionic Facial Cleansing and Toning Device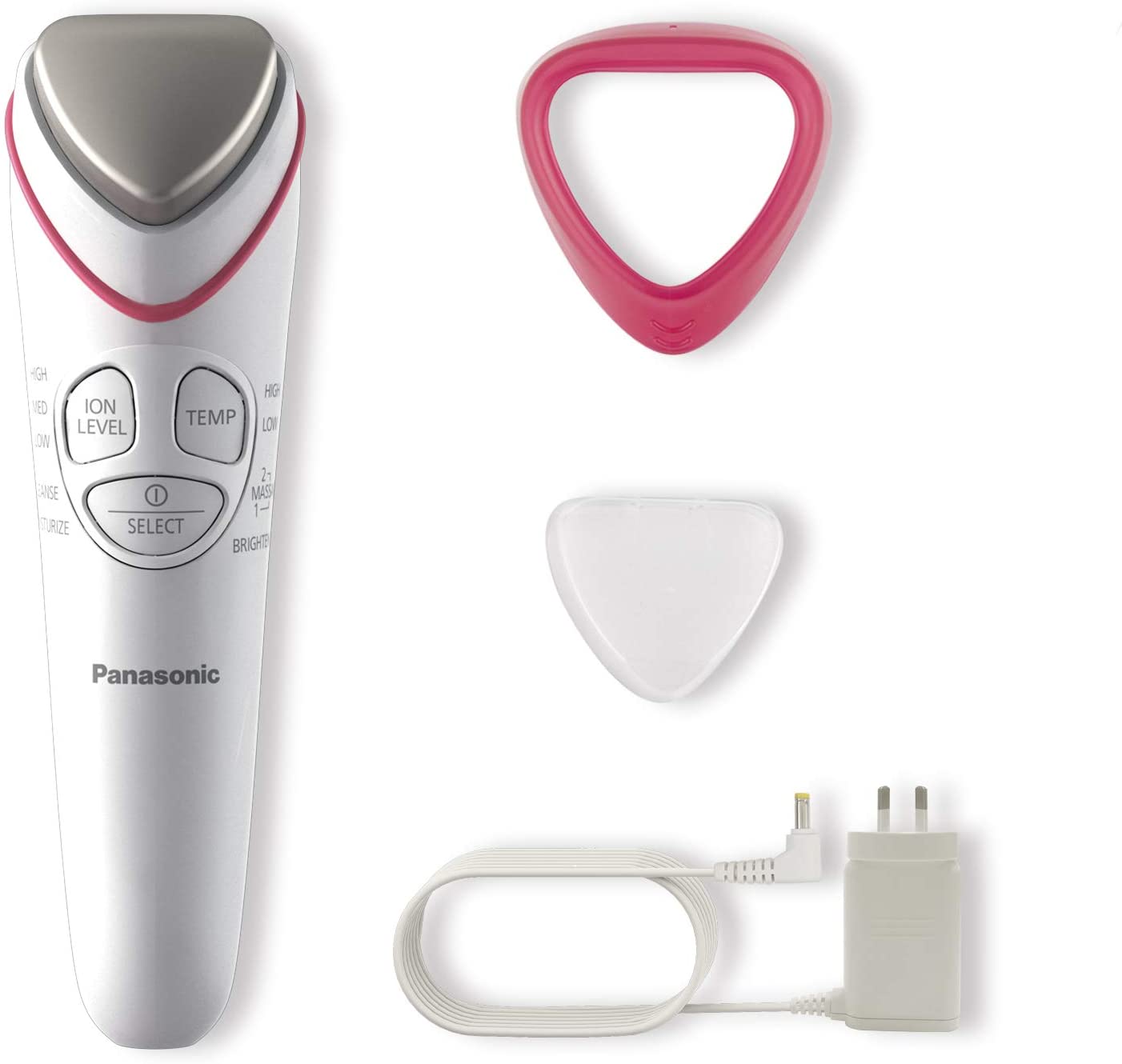 Pro and Cons
Pros
Has 4 modes that target specific skin concerns on the face
Has 3 ion level settings
Has 2 temperature settings
Small and cordless which makes it portable
Gives a spa-like feeling on the face
Cons
It sits at a higher price point
Panasonic has long been used to making home products, but lately, it has delved into skincare as well. Fortunately, Panasonic has retained its glamour and technology when it came to the EH-St63-P541. Just looking at the Panasonic EH-St63-P541, you will see that it is made with an ergonomic design that allows for maximum cleaning of the face. The handle itself is the remote control so you don't have to set up so many things just to cleanse your face.
The Panasonic EH-St63-P541 is one of the best cleansing and toning devices in the market because it is able to deal with 4 major skincare problems. It has a mode for cleansing, which unclogs the pores and kneads the face. It has a mode for moisturising to make sure that all the product is evenly distributed; it even works when you have a sheet mask over your face.
Another mode is the brightening mode where the movement of the device is perfect for placing Vitamin C on the face. Lastly, it has a warm gentle massage mode that just gives you that spa-like feeling right after.
Truly, the Panasonic EH-ST63-P541 is a great help in the skincare department. Now, you don't need to buy devices for all your face concerns.
---
3. Ms.W Hot & Cold Facial Toning Massager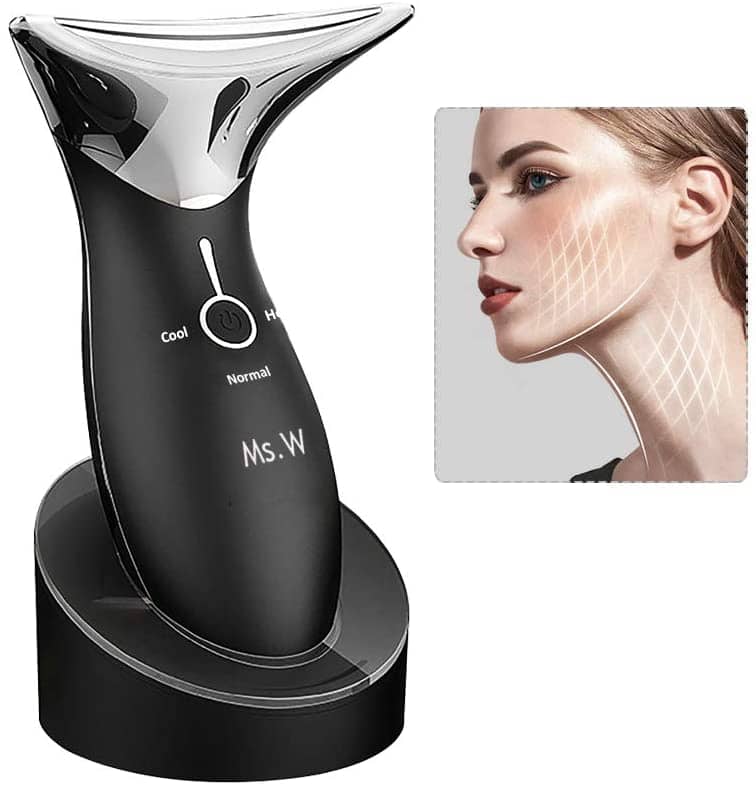 Pro and Cons
Pros
Has 2 temperature settings
Has automatic mode switch that goes from normal, cool, and hot
Curved design to capture face shape
Comes with a charging holder
Easy to use and understand
Cons
Does not have a lot of features
The Ms.W Hot & Cold Facial Toning Massager provides an advanced toning system that is perfect for preventing the signs of aging to show. With its unique automatic mode switch, you get to start from the normal mode that massages the skin in preparation for the other two modes. It also has a hot and cool mode that focuses on rejuvenating the skin and refreshing it respectively.
The Ms.W Hot & Cold Facial Toning Massager is easy to use especially since it does not have a lot of features. This can also be a downside given its selling price. Nonetheless, this toning device ensures that your skin gets the right and comprehensive treatment that it deserves as far as toning is concerned.
One thing you might not notice with this device is the presence of red and blue light. The red light goes on to promote blood circulation and fix damaged skin. This is also done in the "hot" mode. On the other hand, the blue light shrinks pores after cleansing and it soothes any discomfort on the face. It's also called "cool" mode.
Overall, the Ms.W Hot & Cold Facial Toning Massager is an easy facial device that will help you get tighter skin in just 9 minutes!
---
4. Project E Beauty Wireless Microcurrent Galvanic Facial Lift Device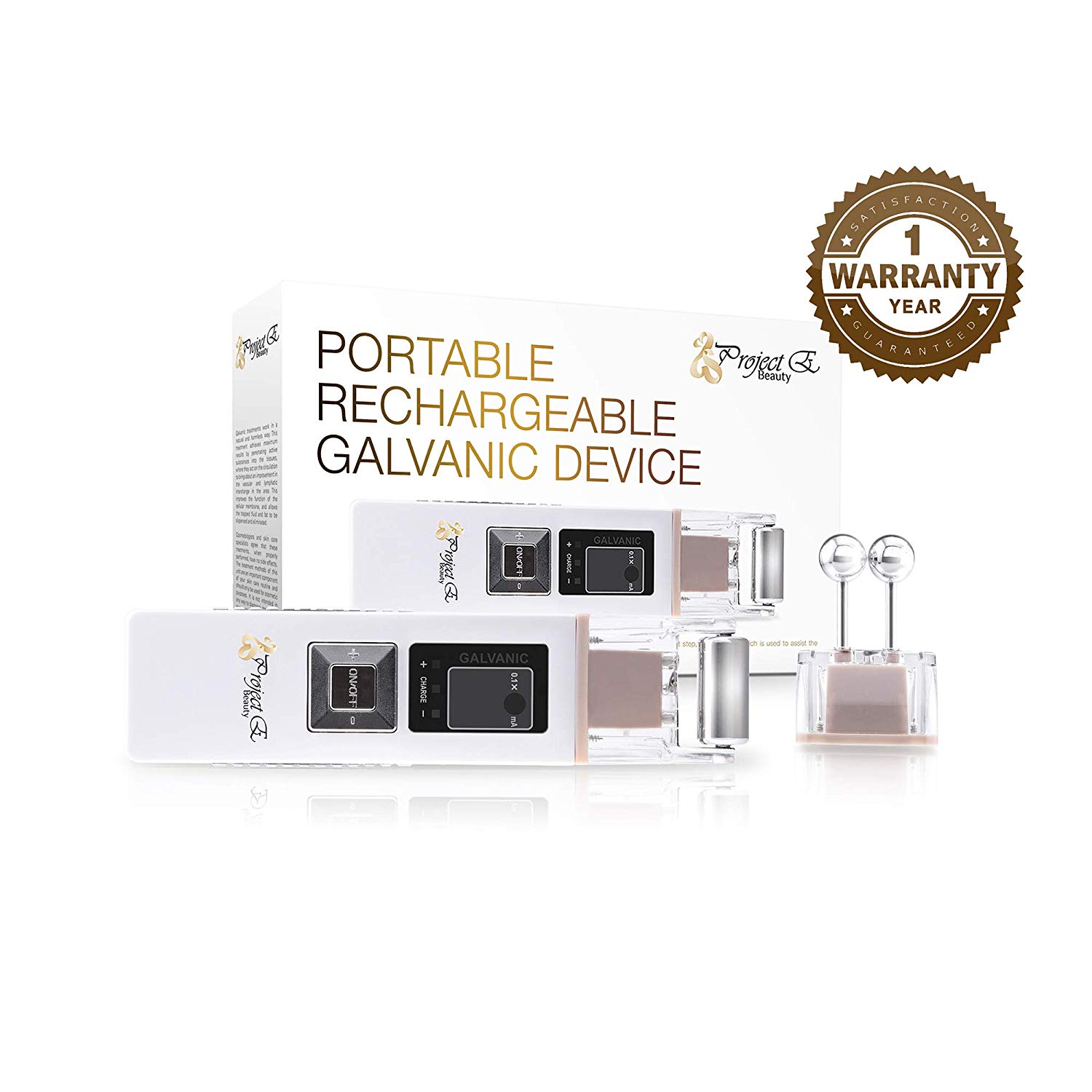 Pro and Cons
Pros
Dial-based controls
Portable, compact, and wireless
Adjustable intensity
Rechargeable
Cons
Issues with reliability and durability
Limited roller application
People who are not ready to invest a few hundreds of dollars on a high-end portable facial toning device like NuFace Trinity can opt for Project E Beauty's Wireless Microcurrent Galvanic facial Lift Device. This is a handy contraption that can give you a decent job for less than half the price of a NuFace Mini.
Keep in mind that the Galvanic Facial Lift Device's strongest point is its price. However, Project E Beauty still strives to make this device work by integrating a few improvements.
One of the things that make this facial toning device so attractive to some individuals is its galvanic function. It produces electrical energy by converting chemical energy to elicit the kind of results that one expects from such a beauty gadget. It boasts of a power output of only 1 mA and a voltage output of 7 to 12 volts in both positive and negative polarities.
While the galvanic technology that Project E Beauty employs is noteworthy, there are a few drawbacks to the higher limit of its adjustable intensity levels. Compared to other portable facial toning devices, the Project E Beauty's highest intensity is not high enough to produce a more desirable outcome.
It is for this reason that we've encountered a lot of users complaining that the device doesn't work. However, for those who are new to facial treatment, the tame intensity levels of the device should be perfect.
There is another minor hiccup in the Project E Beauty's design. Its roller applicator limits its use to the arms and neck. The company does provide another attachment, but this, too, has some design issues.
This facial toning device may provide less-than-stellar performance, but it is still a good buy for those who are not yet ready to jump on a regular facial routine.
---
Who Should Use a Facial Toning Device?
People think that a facial toning device is only good for those who have skin problems like acnes. There are also those who think that people with oily skin can benefit the most when using a facial toning device.
When people think of microcurrent facials, they often think of elderly folks who are already suffering from sagging skin and other skin imperfections. From age spots, wrinkles, and other blemishes, having a microcurrent treatment at home seems like a great way to reverse some of the signs of aging.
These are all true. However, what many don't realise is that everyone can benefit from portable beauty gadgets like facial toning devices. These contraptions deliver low-voltage electric currents that mimic the same electrical impulses that the body generates.
These "microcurrents" initiate the process of cellular repair and regeneration while also stimulating the production of elastin and collagen. These two substances are critical to the health of the skin.
Having said that, anyone can use a facial toning device to help stimulate healthy skin cell renewal. The individual cells of the skin undergo rapid differentiation that leads to shedding. That's why we can get dry and scaly skin sometimes.
By stimulating the skin cells, we are also stimulating their growth. This produces a skin that looks more vibrant, near-flawless, and young-looking.
A natural question, therefore, will be its use on children. Since the skin of kids are still not overexposed to toxins and harmful chemicals, there is no need for them to use such a gadget. However, there will always be instances, such as a medical condition where microcurrent facials can help. It's best to seek the advice of your kid's paediatrician in such cases.
As such, anybody who wishes to bring out the best in his or her skin can benefit from a facial toning device. One can think of it as a tool for improving the state of health of the skin.
Does a Facial Toning Device Really Work on the Face and Are There Side Effects?
These technologies work to improve blood circulation in the face. This is in addition to the stimulation of elastin and collagen production and the initiation of skin cell repair and regeneration. Improving blood circulation in the skin can bring about a number of benefits.
It improves the nutrition for the skin cells while also removing waste materials for elimination. It can also strengthen the different muscles of the face, including the neck. This can help improve the texture of the skin, making it smoother. Microcurrent facials can also eliminate dryness in the skin by improving hydration. There are also studies that show such technologies can improve cellular metabolism.
All of these can have a more positive effect on the face. So, do facial toning devices work on the face? Yes, they do. However, it is critical that you choose only the best possible product. Like everything else, not all manufacturers are known for playing a fair game.
Some may lower their prices to sell more without thinking so much about the quality of their products. Hence, one should be mindful of getting only the best facial toning devices Australia.
When it comes to safety, these technologies are safe. However, since the technology calls for the delivery of very low-voltage electricity, there are some conditions that may not be ideal for its concurrent use. For instance, individuals with implanted pumps or heart pacemakers or those with uncontrolled seizure episodes should never use frequency-specific microcurrent technologies.
Pregnant women should also not use facial toning devices without the expressed consent from their respective obstetricians. People with scar tissues that are less than 6 weeks old should also refrain from using such gadgets. Acute infections and recent fractures can also be contraindications to the use of such gadgets.
If you experience discomfort, swelling, or redness during the treatment, you should consult with your physician.
How Do You Use a Facial Toning Device?
Different manufacturers provide specific instructions as to how consumers can use their facial toning devices. As such, it is important to read the owner's manual in a very thorough manner so you know the correct methods and procedures of using a particular device.
Moreover, the recommendation is to seek the advice of your healthcare professional before you buy such a device or before you use one.
Facial toning devices are part of a regular facial treatment regimen. Hence, one should observe a routine that works best for him or her. It all starts with a meticulous skin care that includes washing the face and using products that can help in promoting and maintaining optimum skin health.
Before you use a facial toning gadget, make sure to prepare your face and neck first. These technologies work best on a well-hydrated skin. As such, you should remove all substances like makeup on your face.
Use a gentle cleanser and warm water when washing the face. Facial scrubs or exfoliants also work. Rinse the face and dry it well. It's best to pat it dry than rubbing the skin with a towel.
Some individuals utilise a facial steamer for 3 to 5 minutes. This is to soften the skin and help prepare it for the facial treatment.
Apply the conductive gel that comes with the facial toning device. Apply on a small area of the face where you want to first treat with the facial toning device. Glide the gadget over this area, following the directions of the manufacturer.
In general, you should glide the gadget about three times on one area before moving on to the next. Do this gliding motion all over the face and not only on sections that you are dissatisfied with. Once done, wash your face again with warm water to remove any gel residue.
Bottom Line
Facial toning devices are excellent tools for improving the health of the skin of the face. Not all devices come with the assurance that they will work to one's expectations. Choosing the best facial toning devices in Australia thus entails more than reading product information.
One has to read reviews, too. Moreover, knowing who it is for, the presence of side effects, and how to use it can help one enjoy facial treatments right in the home.