Endless hours hunched over your computer can lead to serious neck and shoulder muscle pain. Before you book a slot at your favorite spa for some relief, check out these neck massagers – nifty gadgets that can crush knots in minutes, as well as deliver stress-relief benefits.
Here are my reviews on the five best neck and shoulder massagers in Australia that get the job done right!
| Rank | Product Image | Product Name | Remarks | Where to Buy |
| --- | --- | --- | --- | --- |
| 1 | | Resteck Neck and Shoulder Massager | This machine can soothe all the pain away after a hard day at work | Check on Amazon AU |
| 2 | | Naipo oCuddle™ Neck and Shoulder Massager | This massager is easy to slip on and provides fast relief | Check on Amazon AU |
| 3 | | Breo iNeck2 Neck and Shoulder Massager | It deeply probes the neck, shoulders, and upper back regions | Check on Amazon AU |
| 4 | | RENPHO Neck and Shoulder Massager | An amazing massager that feels and delivers a true massage experience | Check on Amazon AU |
| 5 | | Mo Cuishle Neck and Shoulder Massager | With 8 kneading massage nodes, it provides a deep massage similar to a soothing shiatsu experience | Check on Amazon AU |
The Top 5 Neck and Shoulder Massagers to Buy in Australia in 2022
1. RESTECK Shiatsu Neck and Shoulder Massager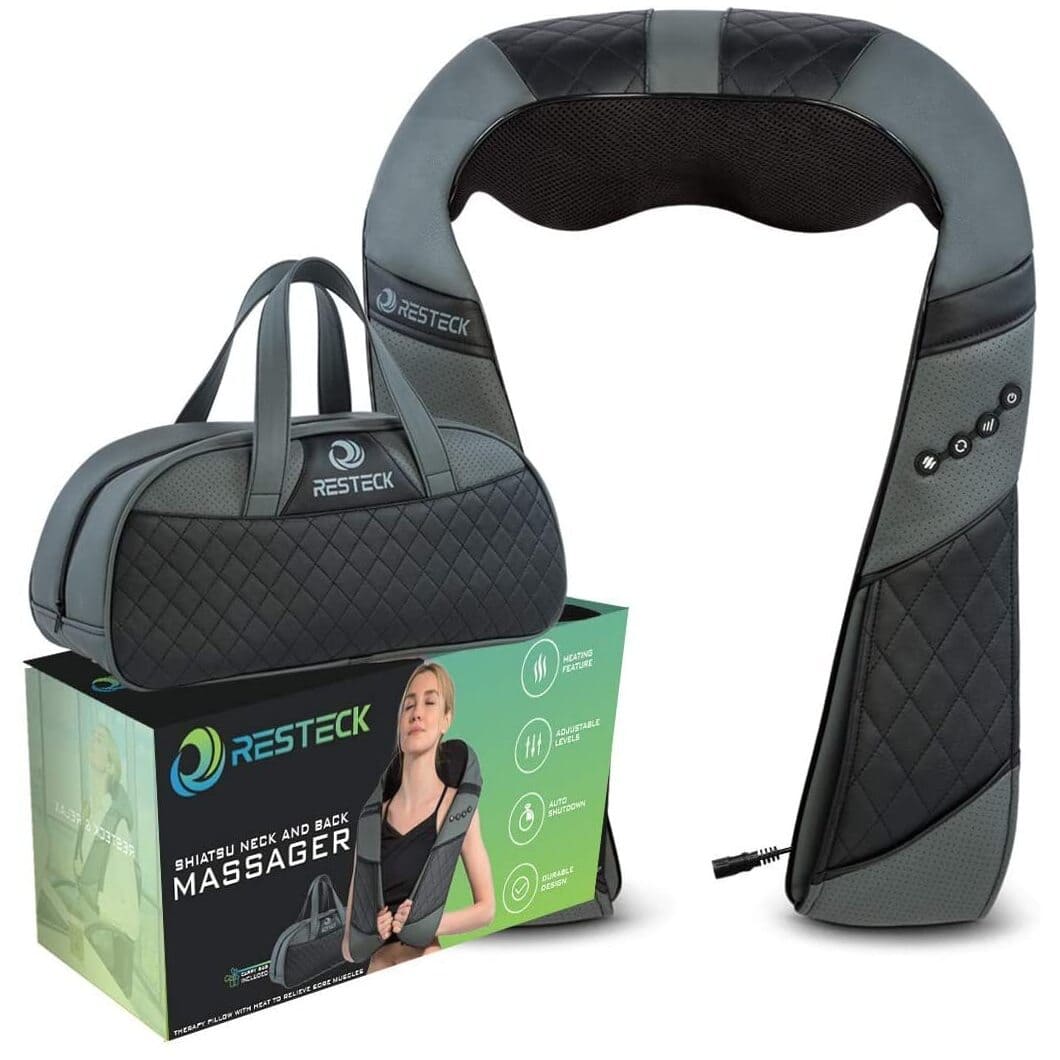 Pro and Cons
Pros
Fully adjustable and direction elements
Instant heating action
Portable and lightweight
Cons
No cordless option
Massage node can be hard and uncomfortable for some users
You can experience the most revitalising massage with Resteck Shiatsu 3D Deep Kneading Neck Massager. It boasts 8 Shiatsu massage nodes and a heated feature for calm and relief. As the name implies, this device from Resteck was designed to mimic the shiatsu massage technique to sooth sore muscles and improve blood circulation.
The control setting comes in the form of four simple buttons which enable users to adjust direction, speed, and heating factors. This means that you can fully customise your massage experience based on your personal preference or concern on hand.
One thing that is good about the Resteck device is that you may also use it for other areas of the body. Due to its size and dimensions, you may use it to provide relief to other parts of the body. It targets acute pain of the joints and alleviates muscle pain and discomfort.
The unit features two hanging loops where users can rest their arms while enjoying a massage. The loops also enable users to manually adjust the pressure with mere movements. You can use the neck massager for back massage too.
This non cordless massage pillow is made from leather hence it is more durable and lasts longer. The electric massager can be folded when not in use and stored in its own portable carry bag. You can bring your massager anywhere you go with relative ease, thanks to the carry bag. For every single unit purchase, users receive one car adaptor and one wall adaptor.
---
2. Naipo oCuddle™ Neck and Shoulder Massager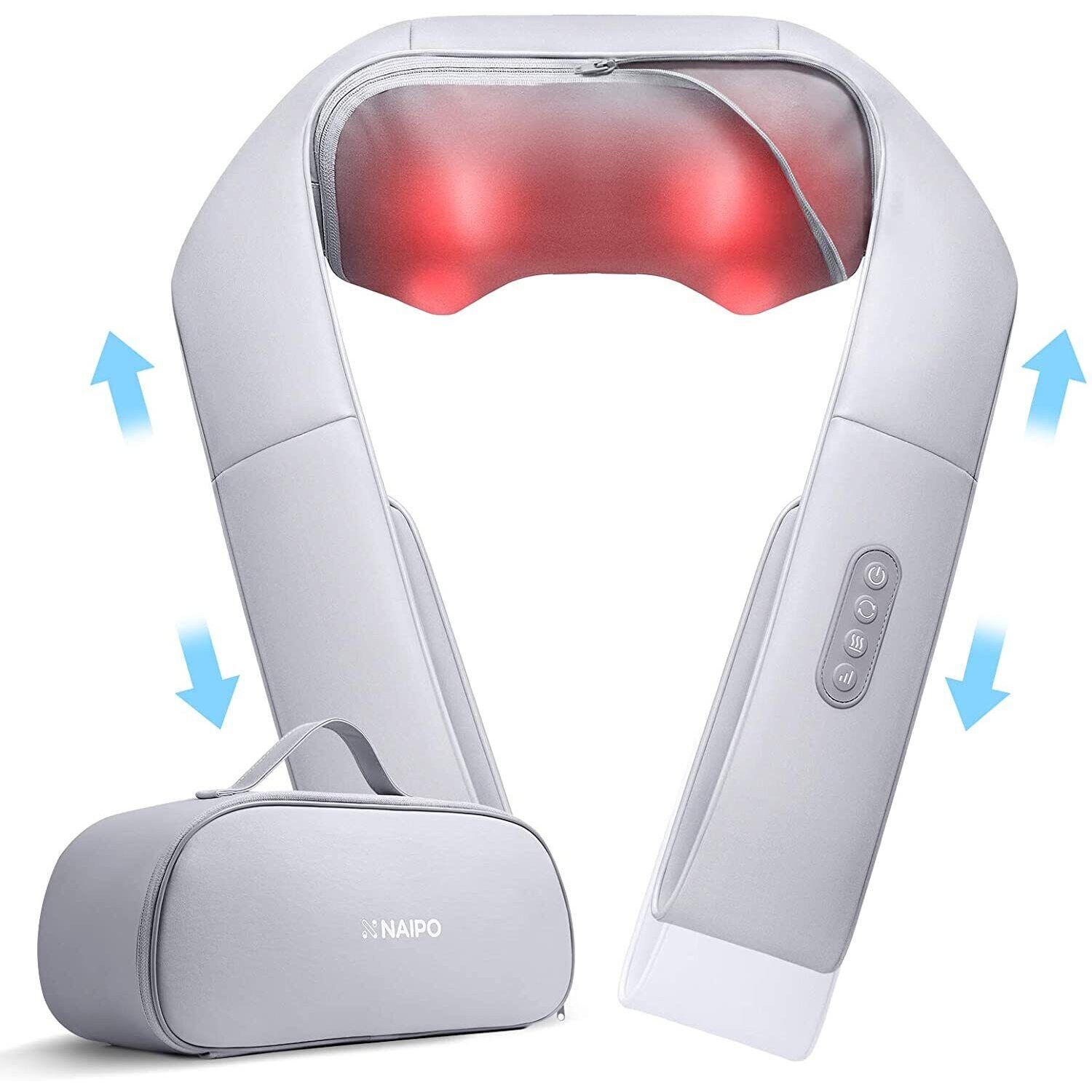 Pro and Cons
Pros
Easy to use
The fabric material is easy to clean
Can be used by the whole family
Has an auto shut-off system
Cons
Takes time to heat
Adjustable speed but not the pressure
Can be a bit heavy on the shoulders for some
For the most revitalising and relaxing massage at home, the Naipo OCuddle Neck and Back Massager is the best companion you will ever have. It is a one-size-fits-all massager that provides relief for your neck and backaches plus gives relaxation to your whole body.
The Naipo OCuddle Neck and Back Massager is designed with an ergonomic U-shape to flawlessly wrap around your neck and shoulder area. It fits snugly to deliver optimum relief for your aches and stress.
You don't have to worry about the size because it has an adjustable band that fits just right to any body shape. The control settings are easy to reach and see, so there's no problem in adjusting the speed.
The massager provides customised massage with its 2-four-node massage heads that rotate in two directions. It has 3-speed levels: low, medium, and high which replicates the feeling of being massaged by an actual person.
The Naipo OCuddle Neck and Back Massager has a 2-level Focal heat therapy technology that centers specifically on the applied area. This results in relieving the soreness and aches of your muscles and eases fatigue.
You will appreciate its lightweight feature because you can bring this massager anywhere and perform the massage anytime you need it. It includes a carrying bag that makes it easy to store as well.
It also has a removable and washable polyamide material that makes it easy to clean. The fabric material is soft and skin-friendly which makes it comfortable to use while massaging.
Aside from that, the Naipo OCuddle Neck and Back Massager is simply versatile. It does not only massage the neck and back, but it can also be used to massage the waist, feet, and calves.
---
3. Breo iNeck Shiatsu Electric Neck Massager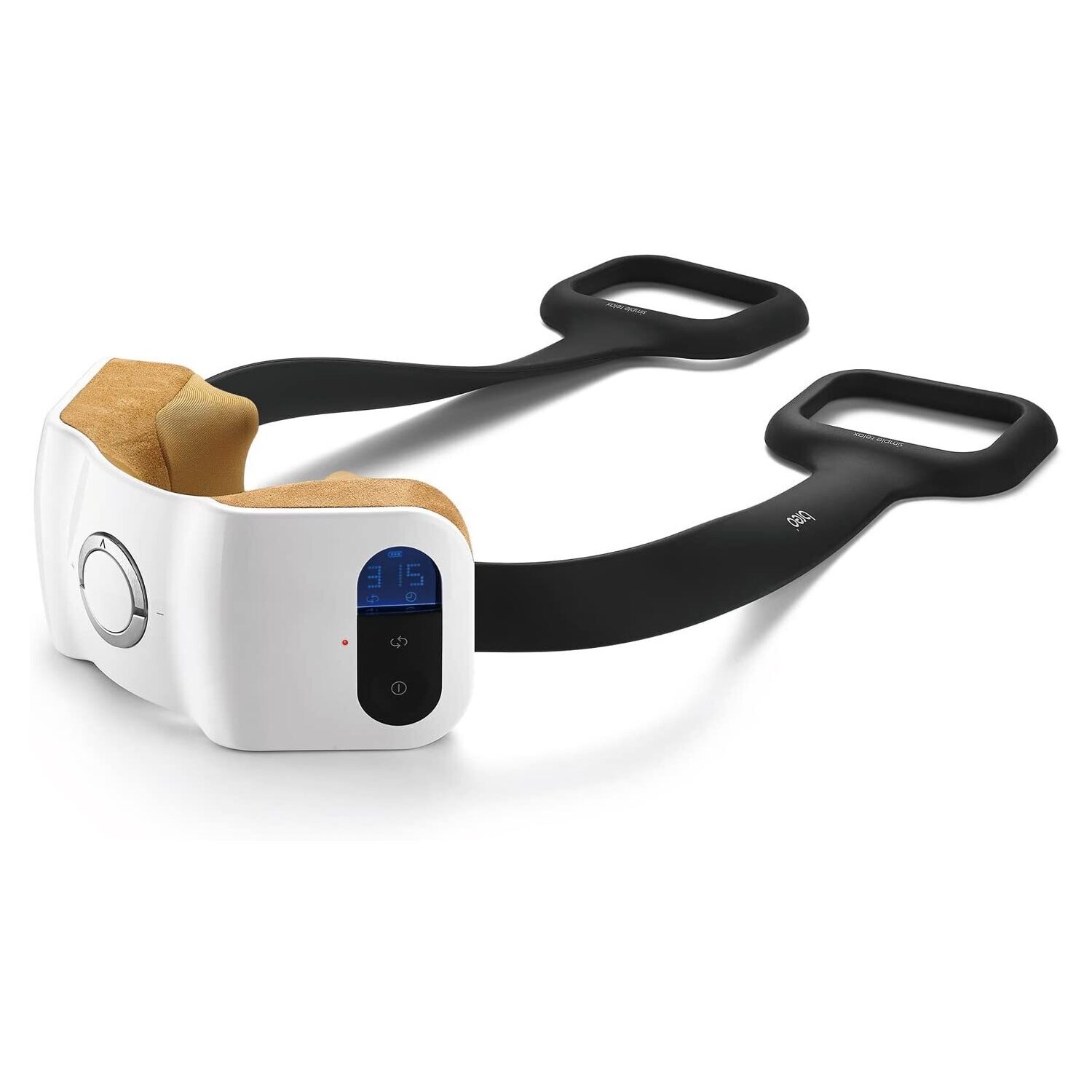 Pro and Cons
Pros
Very small, so you can carry it with you anywhere you go
Made from silicone-grade massage heads so it's safe on the skin
360-degree massage head
Convenient strap for more targeted massaging
Cons
It only targets the neck
Does not have its own carry-on bag
The Breo iNeck Shiatsu Electric Neck Massager is a good-looking self-massaging tool that provides instant relief from sore neck and shoulder muscles. The manufacturers designed these massagers to deliver high-precision shiatsu that effectively targets acupoints that commonly develop in the neck and shoulders.
It comes with a company 45-degree heat compression function that soothes tired and stressed muscles, making them feel more comfortable and less painful. You can adjust the Breo iNeck across three different massage nodes; to relieve pressure, knead acupressure points, and relax the entire neck region fast.
The Breo iNeck Shiatsu Electric Neck Massager is battery operated. It boasts a 2300mAH high-capacity battery that lets user take advantage of its benefits up to 1 week. You can use it for 15 minutes every say for seven straight days without charging it
---
4. Renpho Electric Shiatsu Neck Massager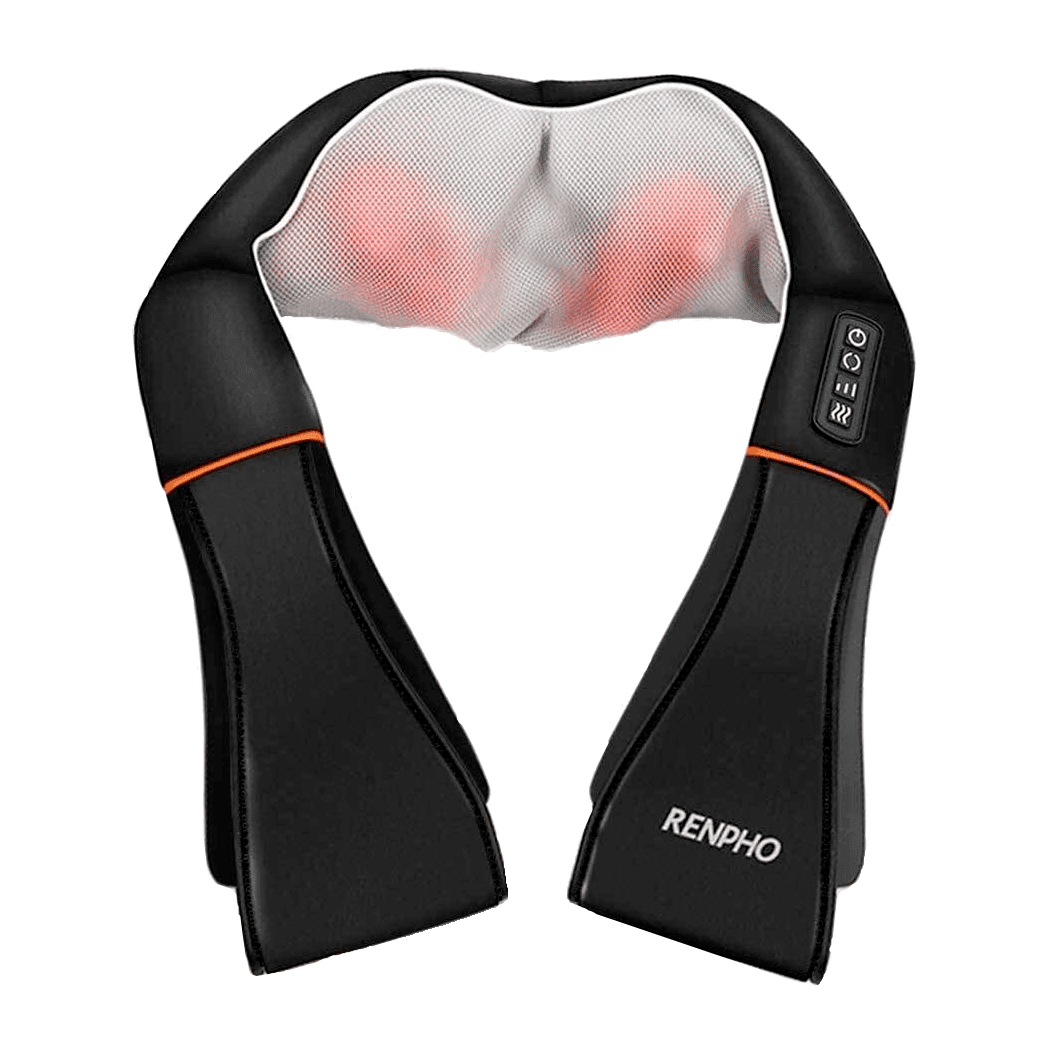 Pro and Cons
Pros
Durable and breathable leatherette mesh
Soothing heat function
New vibration technology
Cons
No cordless function
Too bulky and may not be easy to carry or transport
This specialty neck massager from Renpho was developed to do two things: relieving tension and relieving pain caused by chronic and acute neck and shoulder strain. It boasts heat and vibration function, which adds to its therapeutic and soothing effect on the body.
It has an ergonomic design so that it perfectly fits the neck, shoulder, and back regions. Its high-performance 3D nodes help in reinvigorating and soothing the muscles fast.
It is a self-massaging tool that is recommended for pain relief, loosening of stiff neck muscles, and stress reduction. The independently-controlled vibration technology is what sets this massager apart from other massagers. This feature can be switched on and off depending on user preferences.
The neck massager is equipped with 8 rotating, deep-kneading Shiatsu massage nodes that work wonders in alleviation aches and pains, knots, muscle tensions, while delivering a deep and satisfying kneading shiatsu massage results.
Users can choose from three adjustable massage intensity (slow, medium, and fast) which makes it easy to find the right amount of pressure to experience relief from strains, aches and pains.
The secret to the efficacy of this self-massaging tools is its emulated hand kneading massage feature. The 3D rotating massage nodes were designed to mimic real human hands, so that users enjoy a deep kneading effect that massages the neck and shoulders as well as back thoroughly.
Lastly, this neck and shoulder massager comes with an auto shutoff feature for safety, so your skin does not get too hot. Truly one of the best massagers you can find in Australia.
---
5. Mo Cuishle Shiatsu Neck Massager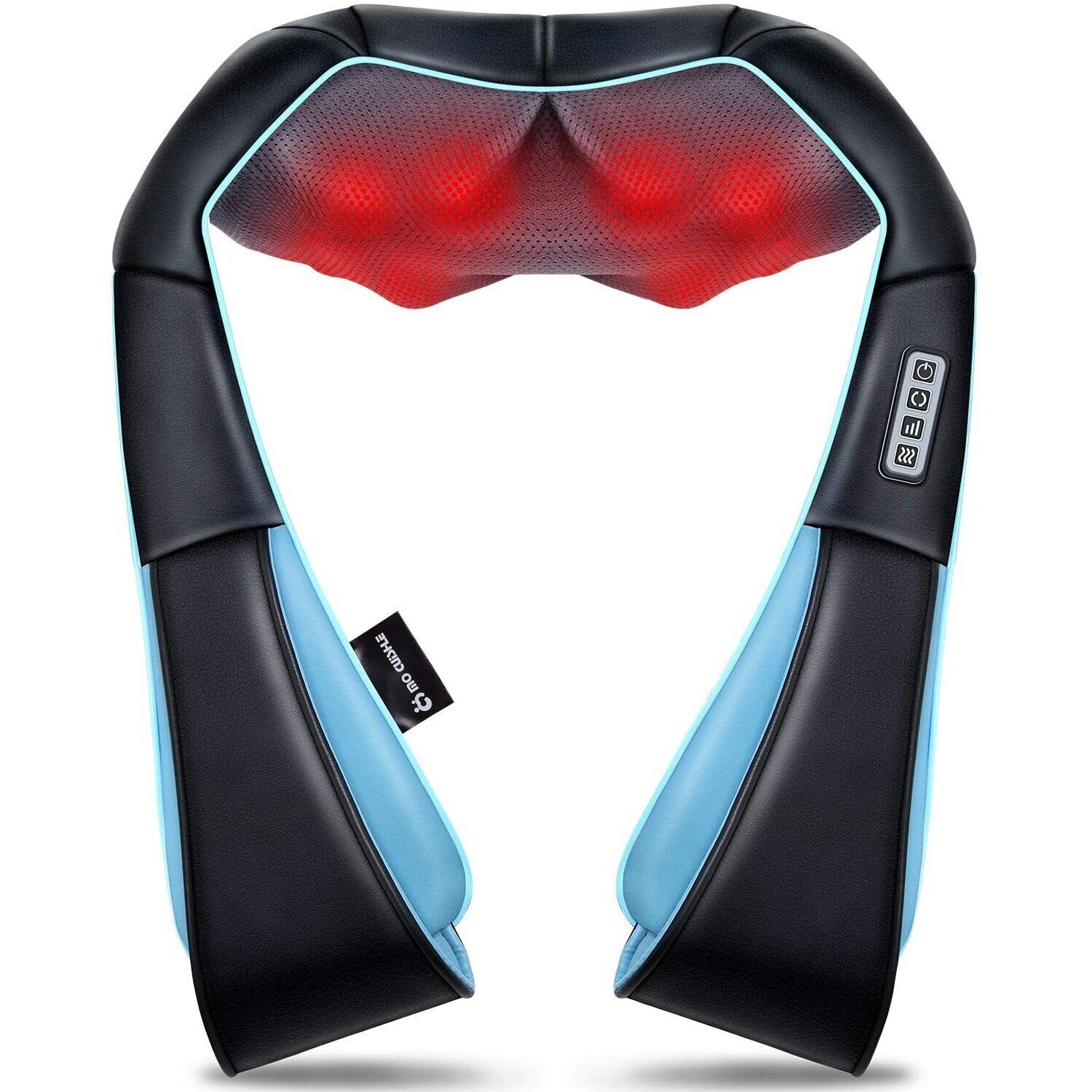 Pro and Cons
Pros
Skin-friendly and breathable mesh fabric
4D deep tissue massage promises real human kneading experience
Smart chip overheating protection system
Multi-speed adjustment controls
Cons
No carry-on bag
No cordless function
Mo Cuishle Shiatsu Neck and Shoulder Massager promotes itself as the ultimate tool for relaxation. It was developed to deliver massage stimulations similar to shiatsu massage. This neck massager is ergonomically designed to fit comfortably around the neck and shoulder areas for a deep and thorough massage experience.
It has 8 deep tissue kneading nodes that deliver deep massage to the tissues and muscles of the neck, shoulder, and upper back regions. It also has an advanced infrared heating function that delivers soothing warmth to relieve tension.
It also improves blood circulation while alleviating concerns including body aches, cramps, strained muscles, and muscle tension. The heating function is enclosed in premium breathable mesh cloth and PU leather that adds to the relaxing experience when in use.
You can adjust the speed and direction of the massagers. You can choose from slow, medium, and fast based on your personal preferences. You can simply press the controls to change the direction of the massage, too.
The massager changes direction every minute, so you can simply relax or sleep when using this neck, shoulder and back massager. The automatic shut off function turns off the neck massager after 15 minutes of continuous use.
Due to its relatively small size and dimensions, you can carry the Mo Cuishle Shiatsu Massager anywhere you go. It comes with a wall charger and a car charger, which enables users to use it at home, at the office, or while in the car traveling. The long cables for the wall and car charger mean that you get extra space and comfort while enjoying a total body relaxation.
---
Best Neck Massagers Buying Guide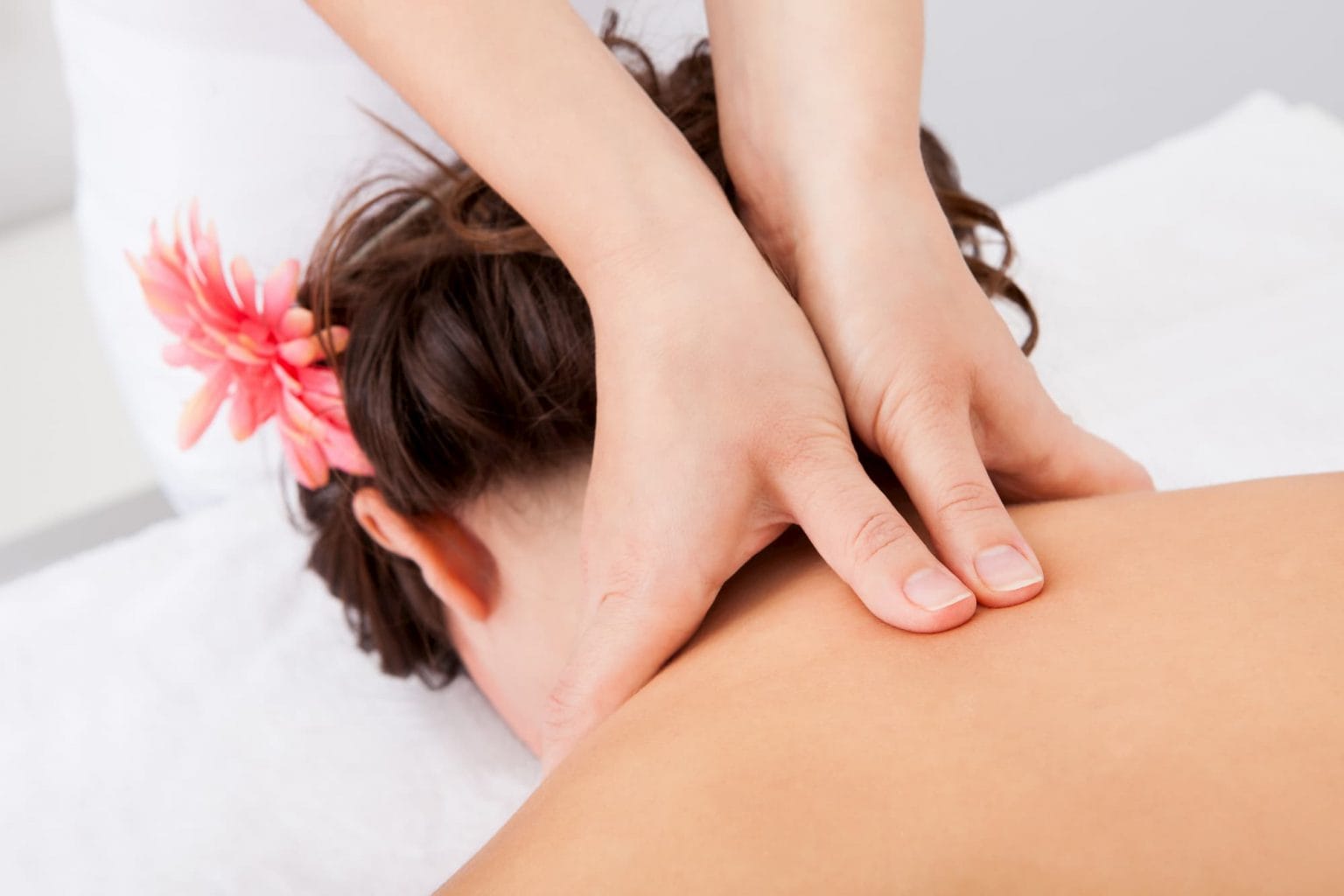 Sore neck and shoulders are uncomfortable symptoms that prompt fast relief. Instead of going to a spa or employing the services of a professional massage therapist, you can get the same soothing results from a reliable self-massage tool called neck and shoulder massager.
Neck massagers were developed to help with neck pain relief and discomfort in the neck and shoulder regions. It may well extend to the upper portion of the back and lower back, too. A quality massager has the ability to emulate real hand massage, with the use of advanced technology and innovations.
Key Points
When buying a massager, here are key points that you need to remember:
It should have the ability to enhance the flexibility of neck and shoulder muscles
It should have the ability to promote muscle recovery and healing
One important advantage from an effective massager is pain relief
It should promote enhanced blood circulation which helps in dealing with sore and swollen muscles
It should also energise the body after deep relaxation from deep tissue massage
It should induce better sleep
Functions and Features of Neck and Shoulder Massager
When buying a neck massager in Australia, here are functions and features that you need to look out for:
One of your main goals when shopping for neck massagers is finding one that has the ability to address soreness and muscle spasms to achieve quick relief and muscle relaxation. A good neck massage should provide relaxation not only to the target muscles but also to the rest of the body, too, like lower back.
Infrared heat function because additional warmth combined with a massage induces pain relief and enhances blood circulation in areas such as lower back to reduce soreness and swelling.
You need to check the power consumption requirements of the massager. For instance, percussion-type massagers consumers a great amount of power when in use. With this in mind, you may need to find one that features vibration or kneading technology instead, which are great for sore back.
Look for a massager that features materials that are durable and easy to clean. Since your skin will be in direct contact with the massager, find a product that is skin-friendly and will not cause irritation to your skin.
Automatic shut off feature is important to establish safety and to prevent burns or more strain on the neck and shoulder areas.
Massage nodes are important especially if a product utilises kneading or shiatsu-like massage sensation.
Padded arms are not important but are additional features that add extra comfort while using the massager.
Control panel enables you to control the speed and direction of the massage.
Power cords are essential as most massagers are not equipped with cordless function. Find one with long cords so you can get a massage anywhere you want.
The customer service experience is important when purchasing a tool such as massagers. You need to make sure that your product is covered with a warranty, so that in case of damage, you can simply call in for a replacement or you may be forwarded to places where your massager can be repaired fast.
It is also imperative to look at online reviews and customer feedbacks from Australia when you are researching neck massagers. Check the reputation of the manufacturer and review their other products, too.
This will give you a good idea whether a company employs good practices as well as use quality materials, as well as safe and effective technologies in the manufacturing of their massagers.
Other Criteria When Purchasing Neck and Shoulder Massager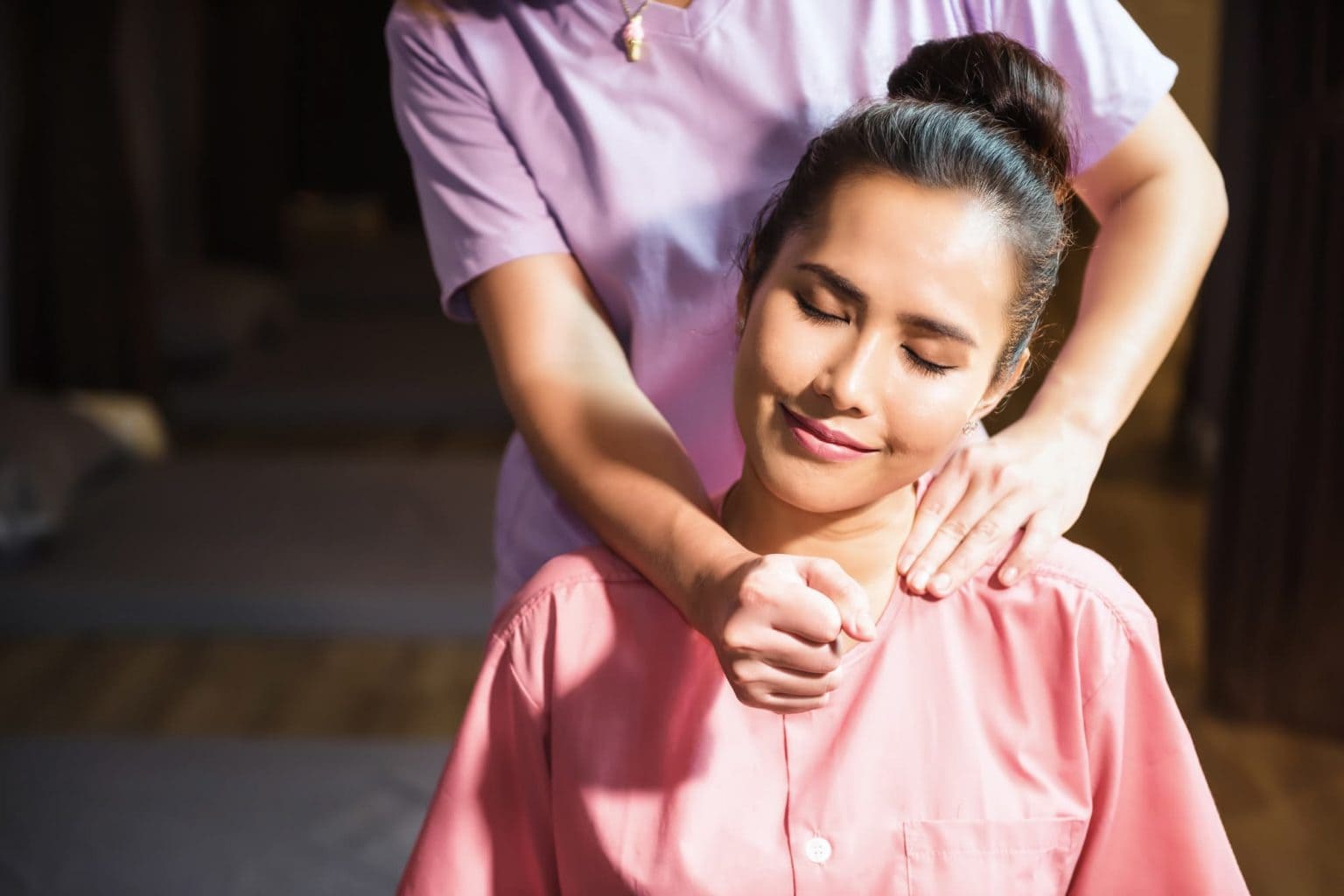 Apart from providing muscle pain relief, alleviation of muscle stiffness, soreness, and discomfort, neck, back and shoulder massagers should offer the following advantages, too:
Privacy
Pick a massager that you can use anywhere, but most especially one that you can use in the comfort of your home. You should be able to use it without having to strip naked just so you can experience relaxation.
Safety
It should have a well-integrated electronic system enclosed in materials that will protect you from the wires and electronic circuitry, thus avoiding grounding or being electrocuted while getting a massage.
Portability
Portability is a key factor when buying a neck and shoulder massager. Because muscle strain and soreness does not choose where and when it attacks, it would be an extra benefit if you can carry a massager anywhere you go.
Easy of use
A neck massager should be easy to connect to electricity and to your car's charging dock. It should work automatically and flawlessly with a few touches on the control panel. The speed and direction should be easily adjusted, too.
Things to Look Out for When Buying a Shoulder Massager
When shopping for the best neck massager, here are things that you need to take a closer look at. These pointers are not drawbacks per se but may signal that a massager may not meet standard manufacturing and quality control protocols.
Weight
Don't expect back, neck and shoulder massagers to be compact. They will have a certain bulk on them due to the nodes as well as the area that they are supposed to cover. To protect the users from the electronic wires, most massagers feature heavy fabrics and materials.
The irregular dimensions and weight may also mean that you may encounter difficulties keeping it on the overhead luggage bin if you decided to bring it with you during travels.
Typing and grammatical errors on the manual
This is commonplace, especially if the neck massager are manufacturer overseas. Most, if not all are not manufactured in Australia. Make sure to find the manual online and read reviews to ensure that you have a guide that you can understand in the case you encounter any problems in the future.
Bottom Line
If you've been searching for "best neck massager Australia" in Google, I hope that this comprehensive buying guide and reviews becomes an extremely useful source of information for you.
It should help you narrow down your choice to find the best neck massager in Australia that has all the right features and one that fits your budget, too.