If there is one part of the body that gets overused a lot, that would be the eyes. Our eyes allow us to do the things that we do, but somehow, we forget to take care of it. With an eye massager, you can give your eyes the much-needed relaxation because it helps improve blood flow.
If you spend hours and hours on end looking at a screen, then an eye massager is what you need. Read on to see my reviews on the best eye massagers.
The Best Eye Massagers to Buy in Australia in 2022
1. SereneLife Eye Massager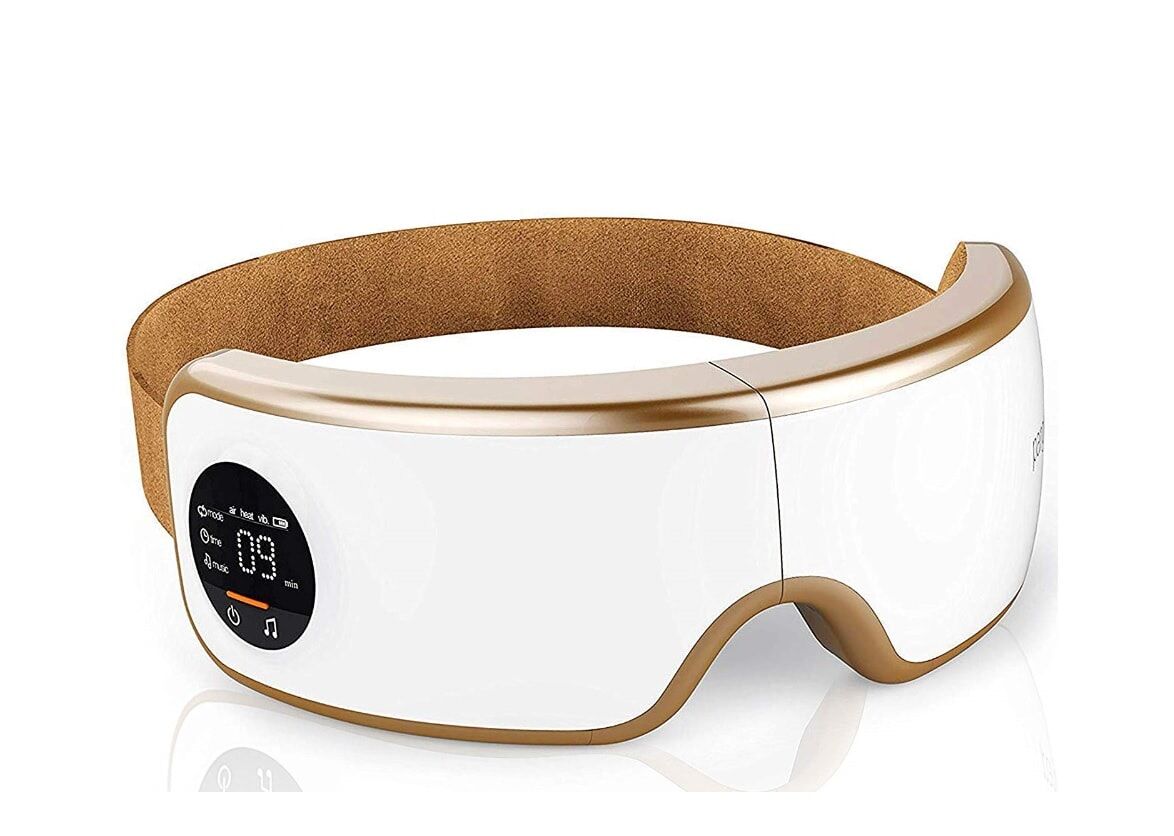 Pro and Cons
Pros
5 different massage modes that give different relaxation experiences
Has heat compress features that further relax your eyes and your temples
Foldable – it collapses into a square-shaped tool
Comes with a USB cable that allows you to add more relaxing music
Adjustable band
More affordable compared to similar-feature products
Cons
It only lasts for five 15-minute massages
The buttons are hard to use when you have the mask on
If you are looking for an eye massager that has it all, then I recommend the SereneLife Eye Massager. This product literally has thought of everything – from different vibration settings to soothing sounds that will turn your 15-minute massages into mini spa experiences. You can choose from 5 different massage modes and you can pair them with nature sounds.
I love how this eye massager ensures that every part of your eye is taken care of. I know this because it comes with a heating pad that makes your eyes less tired. I don't have to worry about tired-looking and puffy eyes and dark circles underneath them. Plus, it is very easy to carry – you can collapse it into a square so you can put it in your bag or purse.
At an affordable price, you get a product that has many features that are easy to use. It's durable and of good quality, so buying this is a good bargain.
I highly recommend buying the SereneLife eye massager. It really makes your eyes relax and it prevents them from causing migraines. If you're like me who gets migraines due to eyes, then this is a lifesaver.
---
2. Breo iSee4 Eye Massager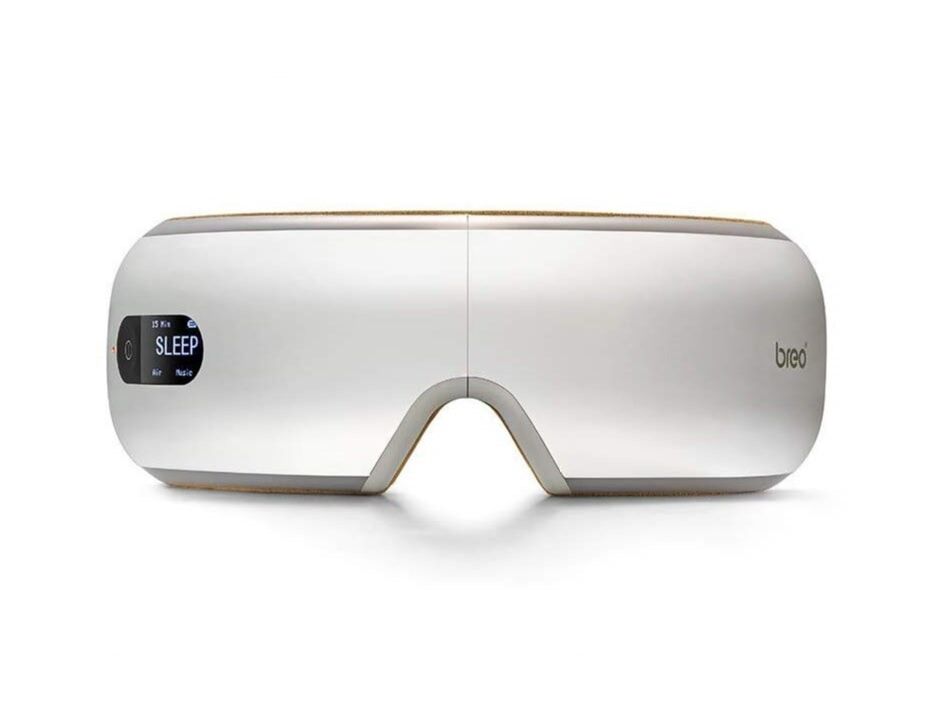 Pro and Cons
Pros
It is designed to focus on acupoints in the eye area
It gives of warmth for more relaxation and blood circulation
Easy-to-use buttons
Foldable in half for easy storage and carry
Cons
Only has 3 massage modes
Sleep mode doesn't produce enough warmth
Here's a product that doesn't just take your eyes into account. The Breo iSee4 eye massager is perfectly designed to not crush your nose while perfectly covering the whole area of your eyes. Why did I put pressure on the nose part? It's because some migraines are not just caused by eyesore, but also by your sinus. With the Breo iSee4, you can have the sinus area massaged, too.
What I appreciate about this device (and I know you will too), is that its design is meant to cover the acupoints used in traditional Chinese medicine. These acupoints help balance out the flow of energy in the body, so it helps in your overall well-being. This device does the point massage with the heating air pressure and using the pressure vibration to give you a good eye massage around the eyes.
It has 3 different modes – sleep, medium, and high – and they can all produce 42 degrees Celsius of heat. As you already know by now, this will help you have better blood circulation. It also makes use of air pressure to massage the area surrounding your eyes, so it definitely means full eye massage. And most of the time, 15 minutes is sufficient as a good massage around the eyes.
---
3. CLORIS Eye Massager
Pro and Cons
Pros
5 massage modes – clear, vitality, sleep, beauty, and auto modes
Very durable and comes with a sleek design
Can connect to your phone for music selection
Easy to use and easy to set up
Adjustable strap
Automatic turn off at 25 minutes to manage massage time
Cons
It's bulky; you can't fold it in half
Feels kind of tight on the face even after strap adjustment
The first time I saw the CLORIS electric eye massager I knew that it would fit well. It has a sleek white design that perfectly sculpts the eye area. It is made using two separate airbags for each eye that helps focus on each side of your eyes to ensure a controlled acupressure massage, which is the point massage I mentioned earlier. The airbags warm up to 40 degrees Celsius that help further relax the eye area. It's just the right amount of heat that soothes.
But that's not the only feature that you will love about the CLORIS eye massager. This device comes with five massage modes which makes it even more appealing to anyone looking for variation in their massages. It also makes use of gentle heating air pressure in to do eye massage around the eyes.
And while you're trying out as eye massage, you can play music in the background. The CLORIS eye massager is also a Bluetooth device that acts as a music player. You can connect it to your phone to play music or just choose from the built-in sounds. 15 minutes massage is good enough with this CLORIS electric eye massager.
There's a lot to love about this product, but the only thing I don't particularly like about it is its size. It's a little too bulky for me because I can't fold it in half. If you're traveling, you would need a pouch for it to make sure it doesn't get damaged.
---
4. RENPHO Eye Massager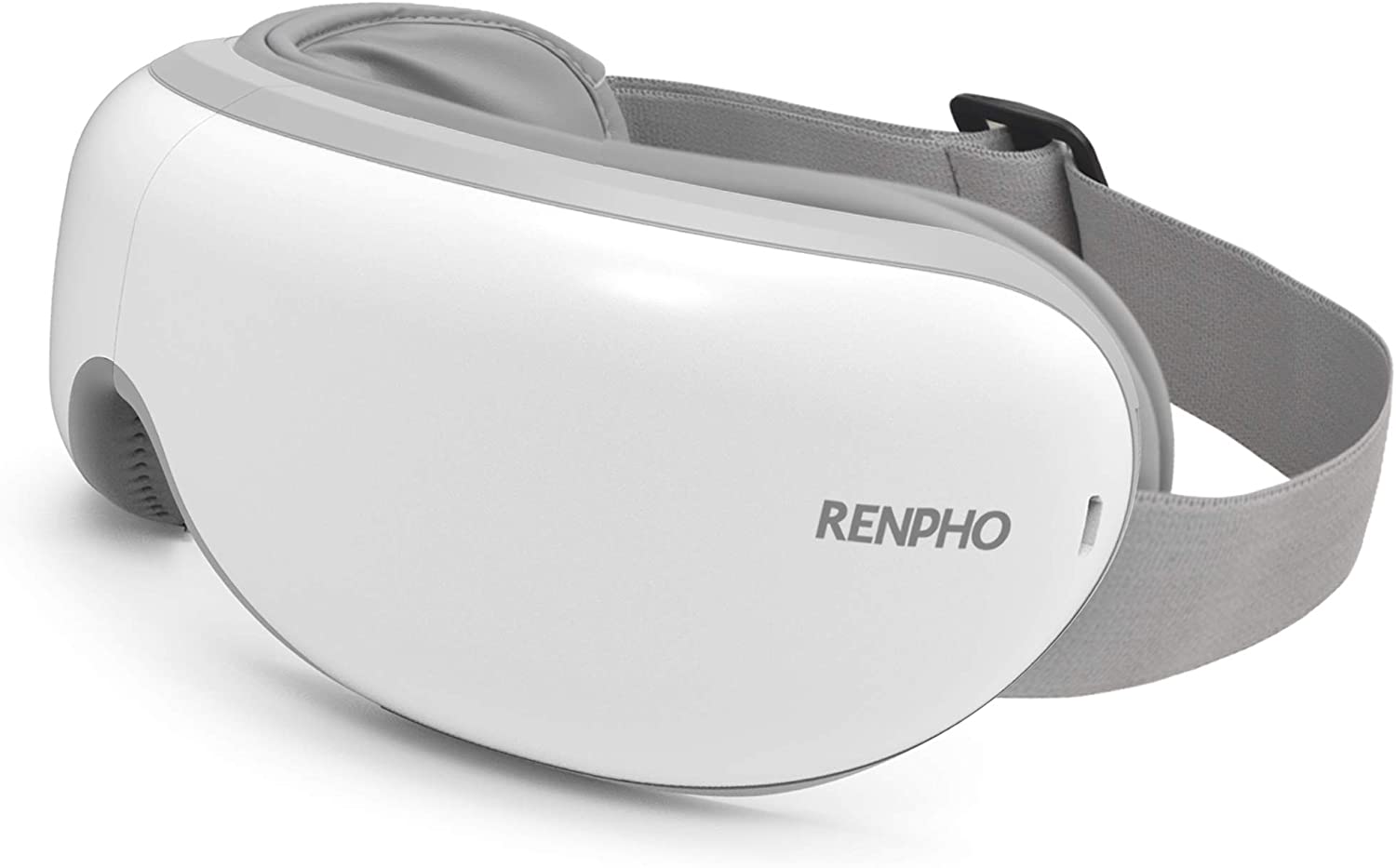 Pro and Cons
Pros
Portable and compact
Utilises Shiatsu massage
Has a music therapy function
Easy to use
Uses acupressure stimulation
Cons
The size may not be able to fit everyone
If you are looking for a shiatsu eye massager, then the RENPHO Eye Massager maybe your best bet. This is because it utilises different acupoints to give you the shiatsu massage simulation. Not forgetting to mention it uses air bags for accuracy and to protect the eyes from the acupressure massage.
This eye massage comes with heating function, which can relieve eye strain, puffiness, headache and more. The temperature ranges from 40 to 42 degrees so it will stay comfortable and relaxing enough for your eyes. One should note however, that you should not use an eye massager if you have certain eye conditions (refer to the details from manufacturer here).
RENPHO eye massager features 5 modes and one of them is the sleep mode, which helps you feel relaxed accompanied by the targeted acupoints after a long day at work. There is also a bluetooth function whereby you can connect to your favourite relaxation music to enjoy your massage.
Lastly, this device is totally portable so you can bring it with you on your travelling adventure. It can be packed compactly into a case, which you can take it to the airplane, office, or anywhere you feel like having a good eye massage.
---
5. Fronnor Eye Massager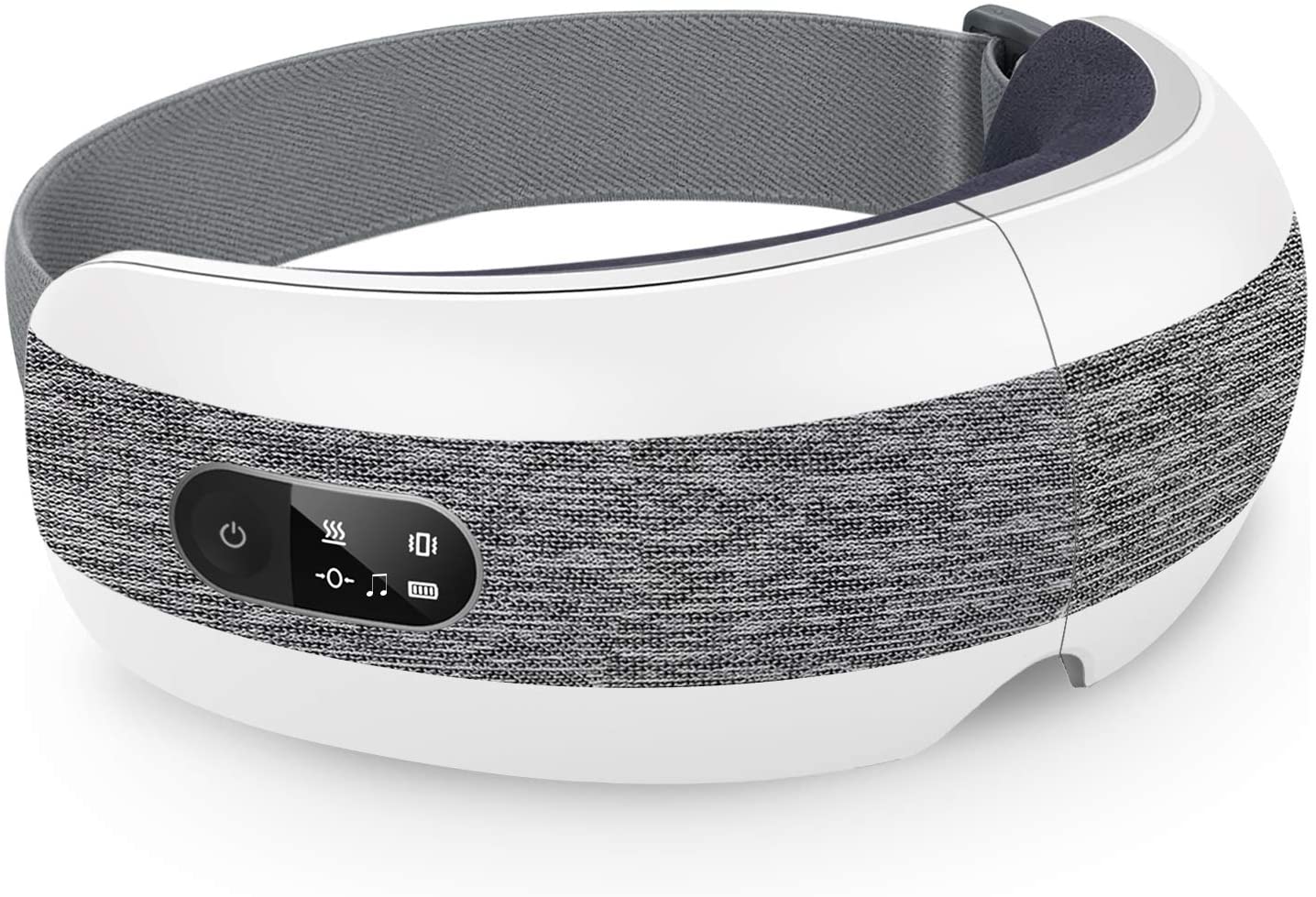 Pro and Cons
Pros
Optional music function
Compact and lightweight for portability
Adjustable headband
Intelligent modes for massages
Has heating function
Cons
Operation may be loud for some
This Fronnor Eye Massager comes with 4 massage modes namely the energy, relax, relieve, and sleeping mode. Changing the modes is easy as all you need to do is to control with the power button. Like most eye massagers, it comes with heating and music functions.
The heating function sits around 42 degrees to promote blood circulation and the manufacturer claims it can help to remove dark circles. The music function can be turned on or off up to your preference as some people may not enjoy listening to music whilst relaxing.
The device's inner cloth is soft and comfortable on the skin. The headband's circumference can also be adjusted easily so cater to most head sizes. Much like other portable eye massagers in the market, the Fronner eye massager is also 180-degree foldable and lightweight enough to be stored away for travels.
---
FAQs on Eye Massagers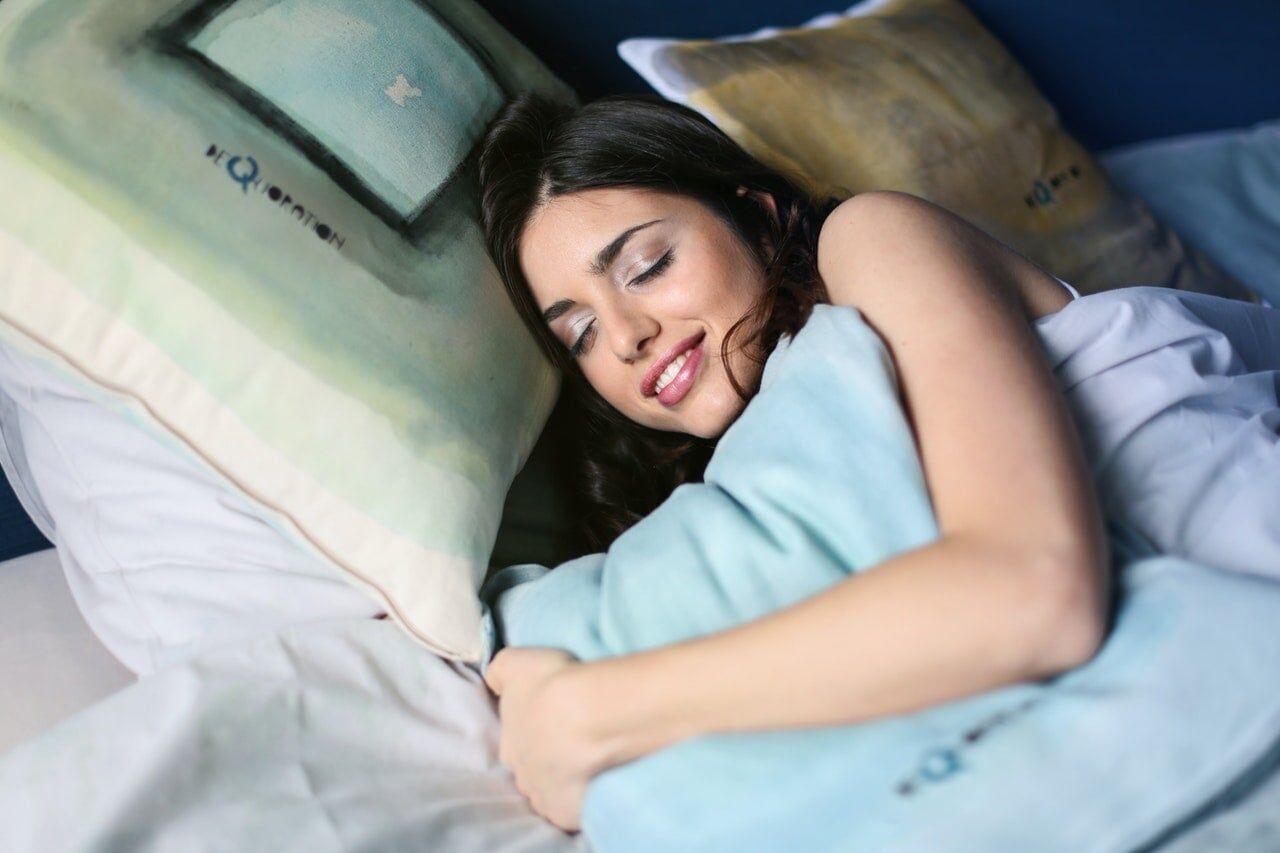 If it's your first time to buy an eye massager, then you must have a lot of questions about it especially when it comes to its effectivity on your eyes. To help you out, I've gathered some common questions that people are most curious about.
1. Should you use an eye massager?
Personally, this can either be a yes or a no depending on the condition of your eyes. While there are many benefits to using an eye massager, there are certain things you should know first, say, your budget, your eye conditions, and whether or not they will be useful for you.
First off, your eye condition. If you face a screen a lot, chances are that you experience eye strain even if you don't know it. Facing screens is the new norm today and almost everyone is prone to eye exhaustion. If you experience the same thing, then you should buy an eye massager. This device is also necessary if you get migraines caused by your eyes.
Second, not all migraines are caused by the eyes. I get migraines but sometimes it's just due to the pressure in my head and not necessarily my eyes. If your doctor says it's eye or sinus-related, that's the time when an eye massager will be useful.
Also, you don't have to have eye or brain problems to want to have an eye massager. If you want to give yourself some form of relaxation during your breaks or during long hours in traffic, then you can also buy an eye massager. Having extra relaxation in this stressful world is always welcome.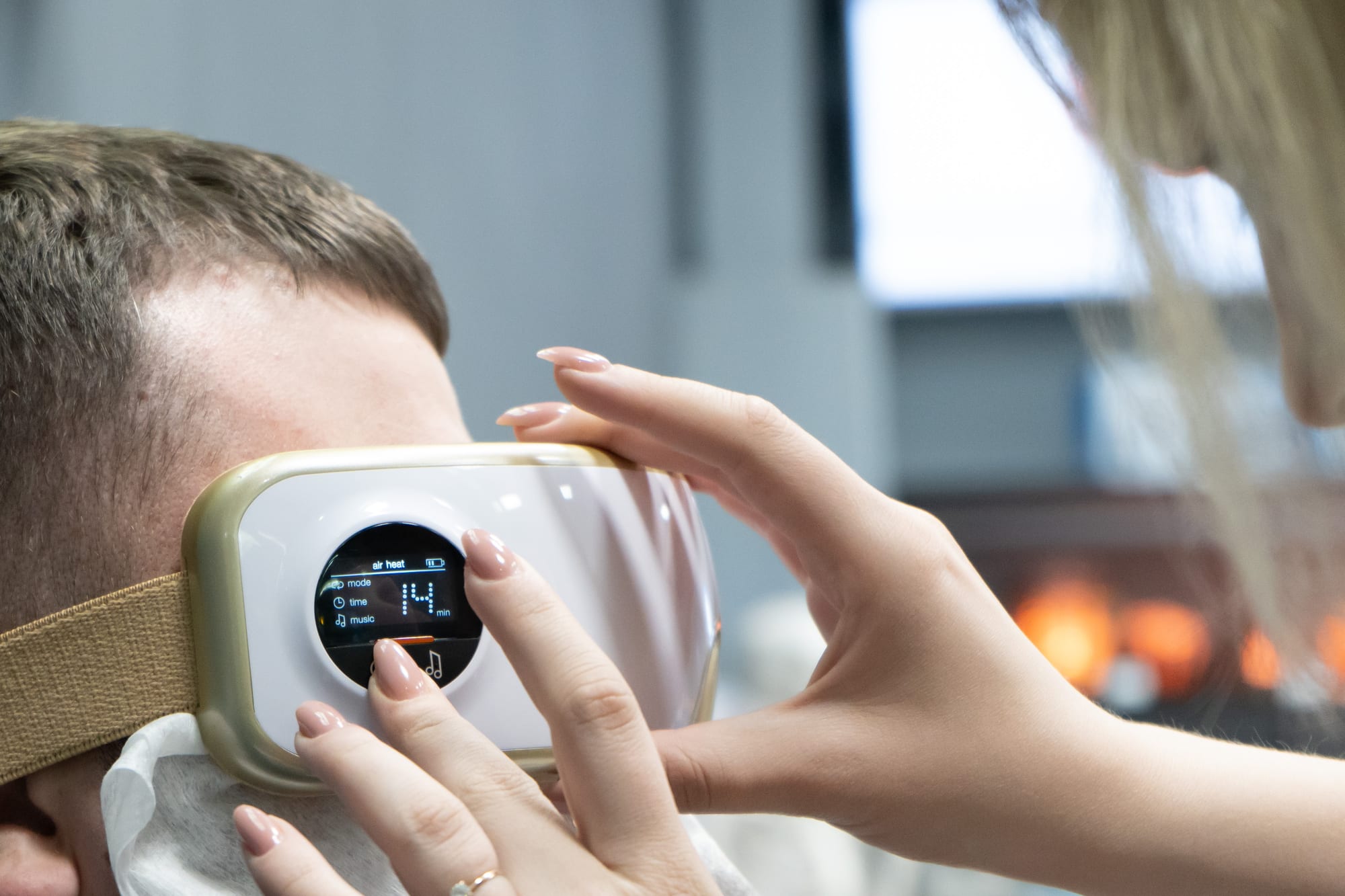 2. What are the benefits of eye massagers?
I'll break down the main benefits of eye massagers into three – less exhausted eyes, fewer migraines, and relaxation.
Eyes get easily tired especially if it involves working on screens at work and getting glued to your phone beyond office hours. It seems that we are perpetually looking at screens, and during the times we don't look at them, we don't necessarily give the rest our eyes need.
This causes puffy eyes, dark circles, and tired-looking eyes. This is where an eye massager helps. They massage the areas around your eyes (not the eyes per se) so that it is able to rest. The air pressure that comes from the mask also lessens the puffiness and dark circles.
Another benefit of eye massagers is fewer migraines. There are many causes of migraines, and some of them are caused by the pressure in your head. With an eye massager, you lessen the pressure in the eye and sinus area so your muscles don't get tensed. It even improves blood circulation so oxygen can flow properly in your head.
Plus, don't discount the fact that eye massagers help you relax. Relaxation is very underrated. Some people think that all they need is sleep, but you can't wait for the end of the day to be relaxed. If you have an eye massager with you, you can feel relaxed even in the office.

3. How to use an eye massager?
Fortunately, eye massagers are very easy to use no matter what brand and model you are using. Most eye massagers have their controls on the eye mask itself while some come with remote control. For kids, it is better to use a remote control so they avoid tinkering with the softer buttons on the eye mask.
To operate an eye massager, simply turn it on. If the battery is drained, just charge it using the cable it comes with and wait for 1-2 hours. Usually, it's fast-charging so you don't have to wait for long. If the device is fully charged, continue to browse the other massage settings. Just pick through the various massages. Depending on the buttons it has, you can activate the heating feature or the music feature.
For music, some devices use Bluetooth. You can connect your phone via Bluetooth and this will automatically play your music. Take note that others have built-in relaxing sounds so you can always just use them.
To adjust the eye massager, just use the straps to fit it in your head. It's better to adjust the straps first before turning it on so you don't waste battery.
4. Do eye massagers work for puffy eyes?
One of the benefits of eye massagers is reduced puffy eyes. So how does this happen?
First off, there are a few causes for puffy eyes. They can be due to overconsumption of salt which results in higher fluid retention, or they can be caused by fatigue or stress. You should know that if it's caused by the former, eye massagers will not be able to treat puffy eyes. It can't also treat puffy eyes that are caused by allergies or inflammation.
Eye massagers generally help reduce puffy eyes by improving blood circulation. This is why jade rollers are also encouraged because the movement of the rollers helps lessen the tension of your muscles. In the case of eye massagers, the vibrations carefully massage the area so that blood circulation is improved.
While I highly recommend eye massagers for puffy eyes and dark circles, I want to emphasise that they are not a substitute for enough sleep and healthy diets. Your eyes are also affected by the food you eat so if you eat salty foods all the time, this can cause your eyes to look puffy.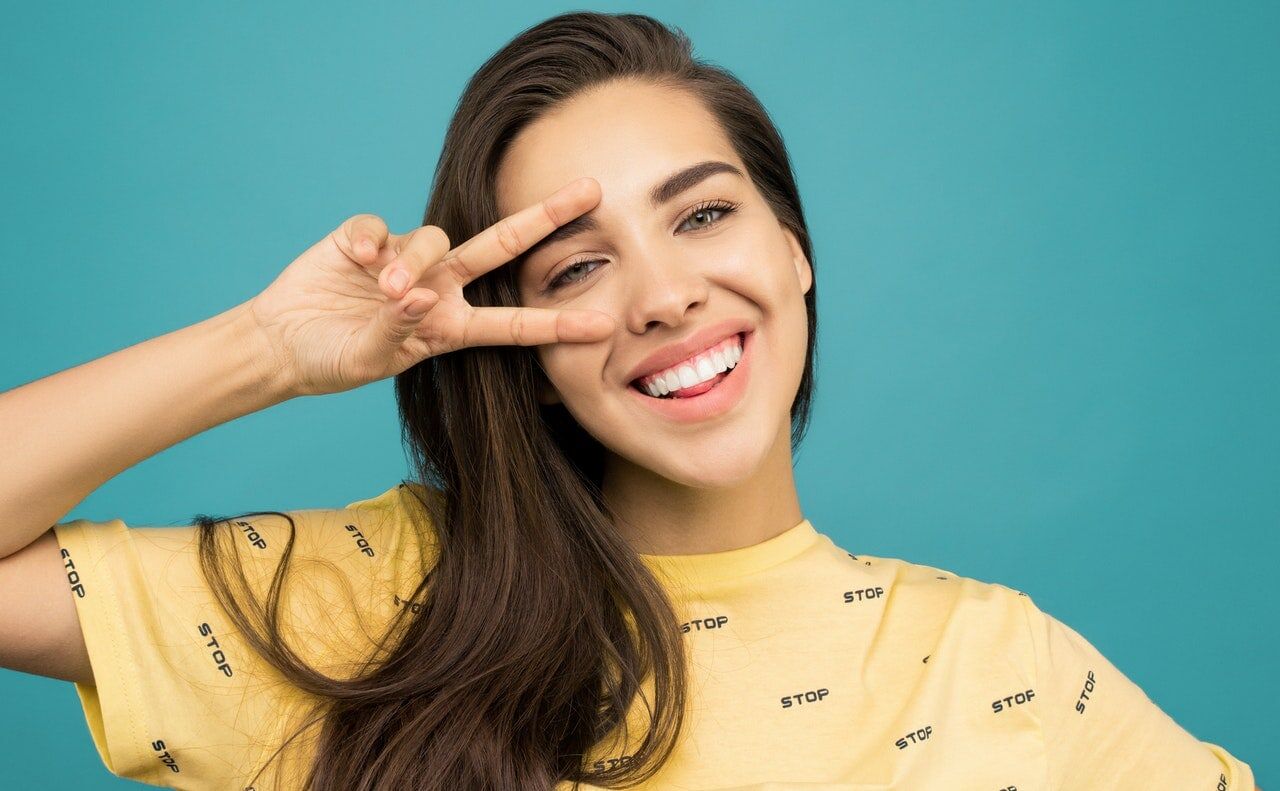 Bottom Line
Overall, eye massagers have done wonders for me and not just on how my eyes look. They have helped me feel more relaxed and I can feel the difference when I have proper blood flow. It really does help loosen the tense muscles you have in your head.